Republic of Korea Tuesday set an ambitious target for its voluntary cut in greenhouse gas emissions, expressing hope that other developing countries would follow suit.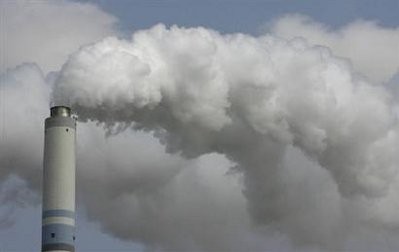 A smokestack is seen at a thermal power plant in Inchon, west of Seoul, February 1, 2007.
The cabinet vowed by 2020 to cut emissions by four percent from the 2005 level, which it said was equivalent to a 30 percent reduction on the basis of a "business-as-usual" development pattern.
A government statement said the targeted cut was the biggest recommended for developing countries by the Intergovernmental Panel on Climate Change, which called for reductions of between 15 and 30 percent.
"Today marks a historic meeting... we must think hard about ways to add to our national interests by reducing greenhouse gas emissions," President Lee Myung-Bak was quoted as telling the cabinet meeting.
A UN climate change summit opens in December in Copenhagen in a bid to strike a new deal to combat global warming to replace the Kyoto Protocol which expires in 2012.
Although a breakthrough in Copenhagen is unlikely, RoK's move will set an example for other developing countries, Lee said.
"Our ambitious target will help enhance the country's international status and national pride," he said.
The government last week said it would focus on non-manufacturing sectors such as transport and eco-friendly buildings to meet its target.
But Knowledge Economy Minister Choi Kyung-Hwan expressed concerns over strains on businesses, according to the statement.
"The target we set today is one of the highest for all developing countries," the minister told the cabinet, noting that South Korea faces mounting competition from China and other developing countries in overseas markets.
Choi said he had been agonising between the government's policy of pursuing "low-carbon green growth" and concerns among businesses.
The burden of the cut should be distributed among business sectors to minimise impact on industrial competitiveness, he said.
The Korean Federation for Environmental Movement, however, said the target was less ambitious than expected.
"A four percent cut is too mild. We've been asking for a 25 percent cut by 2020 from the 2005 level of 598 million tons of emissions," its energy and climate director Choi Sung-Heum told AFP.
RoK's green investment ranks as one of the highest in Asia. Earlier this year, it said it would plough 107 trillion won (93 billion dollars) into "green projects" over the next five years.