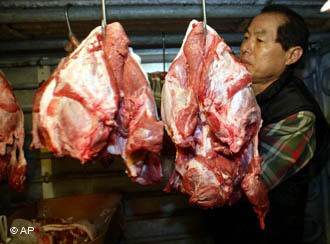 RoK has halted imports of U.S. beef since December 2003
Republic of Korea on Friday lifted a ban on US beef imposed in 2003 because of fears of mad cow disease, the agriculture ministry said.
The decision came after the ministry held a meeting of experts Thursday to review the result of inspections of US beef processing facilities which found no hygienic shortcomings, the ministry said.
"The government now gives final approval for importing US beef," it said.
Deputy Agriculture Minister Kim Dal-Joong told journalists that taking into account the time for packaging and shipment, it would take about 25 days before the first shipment of US beef arrives in South Korea.
RoK had banned US beef imports since December 2003 after a case of bovine spongiform encephalopathy, or mad cow disease, was confirmed in the United States.
RoK's experts in May inspected seven meat processing facilities cited for food safety problems. The agriculture ministry said this week they had all improved meat processing procedures and met standards.
RoK is America's seventh-biggest trading partner. Bilateral trade last year totalled 72 billion dollars with South Korea enjoying a surplus of 16 billion dollars.
Spurce: AFP