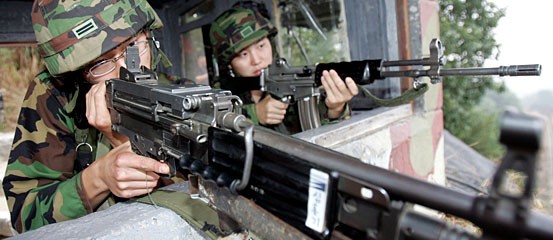 RoK's women soldiers at the DMZ
Republic of Korea (RoK)'s military is stepping up preparations to combat a possible nuclear attack after Democratic People Republic of Korea's declared nuclear test, officials said Thursday.
Local media said the South's new military strategy focuses on boosting state-of-the-art weaponry to incapacitate any future delivery system for nuclear warheads from the North.
"We have a change to the situation here. It is quite natural to check military preparedness under changed environments," a Joint Chiefs of Staff office spokesman said, declining to comment on the media reports.
"We have prepared various reports since the North's Monday announcement on conducting a nuclear test. The details remain confidential."
Yonhap news agency, quoting unnamed defense sources, said on Wednesday the office of the Joint Chiefs had reported to Defense Minister Yoon Kwang-Ung this week on improving military readiness for a possible nuclear attack.
The office mentioned the need for Seoul to revise US-RoK contingency plans and to secure state-of-the-art weapons capable of destroying systems that deliver nuclear bombs, Yonhap said.
Drawn up in 2002, the US-RoK war plan aims to remove Democratic People Republic of Korea (DPRK)'s leader Kim Jong-Il and defeat his 1.2-million military in case the North invades the South, Yonhap said.
But it lacks specific action plans for nuclear warfare, it added.
"Our planned arms build-up for the transfer of wartime operational control will be used to counter nuclear delivery systems," an unidentified defense ministry official told Thursday's Korea Herald.
RoK, pushing to regain wartime operational control over its troops from the United States, has been developing guided missiles and boosting military intelligence and communications capabilities.
Minister Yoon told parliament this week that Seoul would strengthen its alliance with Washington which gives the South a nuclear umbrella against DPRK.
He said DPRK's nuclear threat would be one of the main agenda items at an annual meeting of US and RoK defense chiefs later this month.
The agenda also include a finalized joint plan to drastically revamp the alliance, which dates back to the 1950-1953 Korean War, to allow Seoul wartime operational control over its troops.
The two Koreas are still technically at war because the 1950-53 conflict ended with an armistice, not a peace treaty.
The United States wants to cut its troop numbers from 29,500 to 25,000 by 2008. It also wants flexibility to deploy them elsewhere in the region if necessary.
Source: AFP