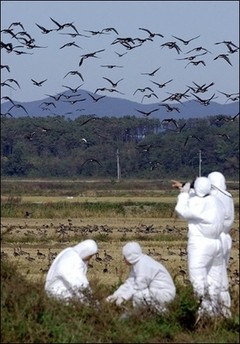 Republic of Korean health officials inspect a rice field frequented by migrating birds in Seosan.
Republic of Korea (RoK) Thursday reported a suspected bird flu outbreak after 6,000 chickens on a poultry farm died in three days -- the first suspected cases since the country declared itself free of the disease last December.
The agriculture ministry ordered the culling of the remaining 6,000 birds on the farm in the city of Iksan, 250 kilometers (155 miles) south of Seoul, and enforced a quarantine within a 10-kilometer radius.
The ministry sent an emergency supply of Tamiflu for 50 people and influenza vaccines for another 300, it said in a statement.
Kim Chang-Seob, the ministry's chief veterinary officer, said the government received word of the outbreak Wednesday, and from the large number of deaths suspected the virus may be a virulent strain.
The ministry was expected to confirm details on the virus late Saturday, after samples were analyzed at state labs.
The ministry has been on high alert as migratory birds that can spread the deadly disease flocked to the country for the winter.
RoK was the first country to report avian flu when the latest outbreaks, the largest and most severe on record, began in Asia in mid-2003.
From December 2003 to March 2004, it destroyed 5.3 million ducks and chickens at a cost of 150 billion won (now 161.3 million dollars) and in December last year declared itself free of the virus.
The World Health Organisation has also said it considered RoK free of the disease.
In September this year, health officials said five South Koreans had been infected by the H5N1 virus two years ago while helping slaughter birds, but had shown no symptoms.
It was only the second known incidence of human infection in RoK . In February, four people were confirmed to have been infected with H5N1, but they also showed no symptoms.
Last month, the agriculture ministry announced tough measures aimed at preventing a winter outbreak of bird flu, which has caused more than 150 human deaths since 2003, but none in RoK .
It said it would step up quarantine and monitoring to prevent imports of infected birds, and closely watch domestic duck and chicken farms.