Resurgent Republicans smashed the Democratic power monopoly, exit polls projected, in a debilitating blow to President Barack Obama just two years after he took power on a tide of hope and history.
Exploiting fear and fury over the stuttering economic rebound, Republicans grabbed back the House of Representatives, though Obama's beleaguered Democrats looked certain to cling onto the Senate, though with a badly reduced majority.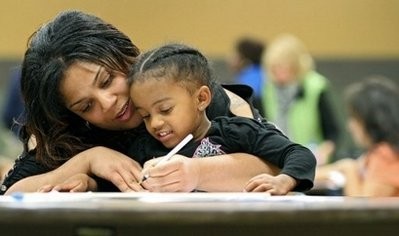 A woman and her daughter vote in Denver, Colorado. Resurgent Republicans smashed the Democratic power monopoly, exit polls projected, in a sickening blow to President Barack Obama just two years after he took power on a tide of hope and history
"We've come to take our government back!" cried Rand Paul, a hero of the ultra-conservative Tea Party movement, after winning a Senate seat in Kentucky.
"There's a Tea Party tidal wave," he said, in a coming-of-age moment for the ultra-conservative movement set up to challenge what critics see as Obama's "big-government" takeover of American life.
Television networks showed Republicans on track to easily exceed the 39 seat net gain they needed to take the 435-seat House, in a result which will likely paralyze Obama's reform quest and cast doubt on his 2012 reelection hopes.
Both CNN and MSNBC projected that the Republicans would post a net gain of at least 50 seats.
The result will spell the end of Democrat Nancy Pelosi's historic four-year reign as the first female House speaker, with Ohio lawmaker John Boehner now all but certain to take the gavel in January.
Democrats however looked sure to keep the Senate after Joe Manchin won the firewall Senate seat of West Virginia, the state where he is currently governor.
Republicans had so far picked up a net three seats on the way to approaching parity in the upper House.
But barring huge upsets on safe Democratic turf, they looked certain to fall short of the 10 seats they needed for their own majority.
As well as Paul, charismatic Florida Tea Party favorite and Cuban-American Marco Rubio, who is tipped for even higher office, also surged to victory in the Senate under the ultra-conservative group's banner.
Rubio however warned that Republicans must embrace fiscal responsibility, saying that voters had rejected the incumbent party in power, not necessarily found new love for the opposition.
"We make a grave mistake if we believe tonight these results will somehow embrace the Republican Party," he said at his victory party.
"What they are is a second chance. A second chance for Republicans to be what they said they were going to be, not so long ago."
All eyes were now turning to Nevada, where Senate Majority leader Harry Reid was battling for his political life against another Tea Party favorite, Sharron Angle, after a bitter and inflammatory campaign.
Television networks said the race was still too close to call.
Earlier, in a last-minute bid to stem Democratic losses, Obama had pleaded with voters over the airwaves and the Internet, to reject what he says is a Republican bid to revive policies which sparked the economic meltdown.
"Today, the country will make a choice about the direction we take in the years ahead," he said in an email to supporters.
"This movement was never just about one election. It was about building a movement for change that endures."
Obama was scheduled to make his first public comments on the election in a White House news conference on Wednesday which could be crucial in setting the tone for a tough run up to his 2012 election campaign.
Under Boehner, Republicans are promising to reverse Obama's sweeping health reforms and promise a budget crunch and tax cuts which they claim will cut the deficit and ignite growth.
All year, voters have made clear that the sluggish rebound from the worst crisis since the Great Depression, with unemployment standing at 9.6 percent, was their major concern.
"I'm unemployed for almost one year," said Republican voter Tom Gutierrez, 41, in Miami's Little Havana neighborhood. "I need to find a job and I'm sure I will not get it with the Democrats."
But Liberty, Missouri, schoolteacher Jane Boswell said she was switching her vote to Democratic because Obama needed more time to pursue his agenda and scolded voters who "think that change has to happen overnight."
"I'm frustrated with adults who think that it has to happen immediately," Boswell said. "Right now, it's like a runaway train, switching tracks all the time."
Obama, who leaves on a nine-day tour of Asia on Friday, must now launch a re-examination of his presidency, as he seeks to renew his bond with voters in the run-up to his 2012 reelection fight.
He could choose to seek common ground with emboldened Republicans who have already said their top priority is to deprive him of a second term.
Alternatively, with his veto pen and the megaphone of the presidency, he could opt to stand his ground, hoping Republicans overreach.