Around 1,000 miners have been rescued from a South Africa gold mine following an accident, RIA-Novoti quoted the mine's owners, Harmony, on their Web site.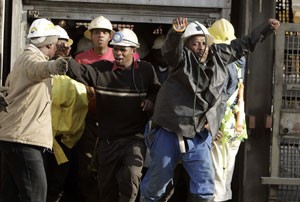 South African miners are seen as they come out from a lift after being stuck for hours in the gold mine, Oct. 04, 2007. (Photo: AFP)
A total of 3,200 miners working at the Elandsrand mine, 80km (50 miles) west of Johannesburg were trapped 2.2km (1.4 miles) underground on Wednesday after "extensive damage was caused to the shaft steel-work and the electrical feeder cords to the man-and-material shaft were severed," the company reported.
No injuries or deaths have been reported, although the men still remaining underground are said to be extremely hungry and thirsty. Some of them have been there since the Tuesday shift.
Temperatures in the mine could reach 30 to 40 degrees Celsius (86-104 Fahrenheit).
The company also said that the rescue operation should take about 10 hours to bring everyone to surface, and that management is confident that all the workers will be above ground by 4:00 p.m. (2:00 p.m. GMT).
South Africa has seen two of the world's largest-ever mining accidents. In 1960, 437 miners lost their lives at Coalbrook coal mine, and in 1986 177 people died at Kinross gold mine.