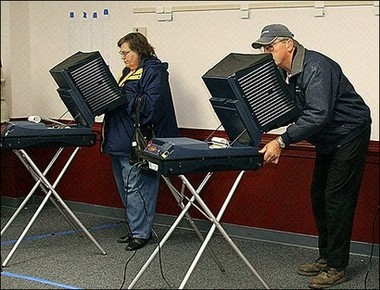 Voters cast their ballots on electronic voting machines at the Sudley North Government Center in Prince William County, Virginia (AFP Photo)
Democrats recaptured the House of Representatives for the first time since 1994, media projected, in a major blow to President George W. Bush's Republicans in his final two years in office.
In an election driven by voter anger over Bush's performance, the troubled US occupation of Iraq and corruption, they also picked up three seats in the Senate but still faced an uphill fight to seize control of the upper chamber.
MSNBC said the Democrats would win at least 221 seats in the 435-member House, a gain of at least 18 seats. ABC and CNN also projected the House would fall, but did not give figures.
Democrats ousted incumbents in Connecticut, Indiana, Kentucky, New Hampshire, North Carolina, Ohio, Pennsylvania and Rhode Island, according to television network projections.
In what was shaping up as a banner night for the Democratic party, Keith Ellison from Minnesota became the first Muslim elected to Congress, and Hillary Clinton as expected crushed her Republican rival to claim a second term in the Senate.
Democrats in midwestern Indiana led the charge, ousting Republicans in three seats. A Republican incumbent was also toppled in Kentucky.
House Republicans also fell in New Hampshire, North Carolina and Ohio and senior House member Curt Weldon and another Republican also tumbled in Pennsylvania.
Democrats also picked up three of the six seats they needed in the Senate, with Democrat Bob Casey projected to beat conservative Republican Senator Rick Santorum in Pennsylvania.
As expected, outgoing Ohio House member Sherrod Brown ousted Republican Senator Mike DeWine, according to network calls, in a state badly hit by economic problems and the deaths of reserve soldiers in Iraq.
And maverick Republican Senator Lincoln Chafee of Rhode Island also lost, despite parting with Bush on several key foreign policy questions, networks projected.
US media also said Democrats would retain contested New Jersey and Maryland seats.
But the opposition party would still need a stunning sweep of three of the four remaining key Senate races in Virginia, Montana, Tennessee and Missouri which were too close to call.
Americans were also electing state governors on Tuesday and Democrats picked up five governorships according to television projections.
As millions of people went to the polls, problems with electronic voting machines were reported across the country, forcing authorities in some states to extend voting hours. Both sides hurled accusations of voter fraud.
Early exit poll data by the ABC television network showed that six in 10 voters disapproved of the way Bush was doing his job. Six in 10 voters also disapproved of the Iraq war.
CBS exit polls found 57 percent of voters disapproved of the war in Iraq, which has claimed the lives of more than 2,800 soldiers.
CNN exit surveys found 41 percent of voters found corruption was an extremely important issue in their choice, possibly a bad sign for Republicans who suffered a string of financial and moral scandals after years in power.
Some 40 percent of those asked in the CNN poll said terrorism was an important factor and 36 percent said Iraq was.
Related Articles:
America Voting for Change: Hillary Clinton
Iraq on Ballot as America Votes
Bush's Republicans Cut Democrats' Lead ahead of Vote: Polls