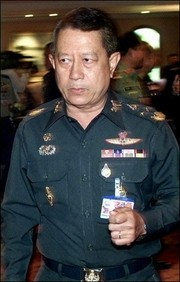 General Surayud Chulanont, seen here in 2000 (AFP Filed Photo)
Thailand's ruling junta has picked a former army chief to be the new prime minister, local media and a government official said, more than a week after the coup that ousted Thaksin Shinawatra.
At the same time, the military -- which refused to confirm or deny the name of their reported pick -- said it was reserving the right to sack the premier under an interim constitution due to be published this weekend.
General Surayud Chulanont, 63, now an advisor to the revered king, had been chosen as the successor to Thaksin, state-run Radio Thailand reported on its website citing auditor general Jaruvan Maintaka.
The choice was "quite certain," it quoted her as saying, adding that he "is the most suitable for the job, given his qualification and his seniority."
Surayud's name was also splashed across the Thai media, although a military source, who asked not to be named, said he had in fact turned the offer down.
The junta's secretary general threw his support behind Surayud and said he figured "on the list" but that no names had been sent for royal approval.
"If it is General Surayud, I like him and I respect him," General Winai Phattiyakul said. "He may be my choice, but I do not have the power to choose the prime minister."
Winai indicated Surayud's army past would not be a bar to getting the post of premier. "We really consider that a retired general is a civilian," he said.
Thailand's new military leaders pledged after taking power on September 19 to appoint a new premier within two weeks to guide Thailand towards elections in October 2007.
"The endorsement of the prime minister and handing down of the Royal Command is expected to take place on Sunday at Government House," said junta spokesman Palangoon Klaharn Friday.
The other main candidate has been former World Trade Organization chief and current head of the UN Conference on Trade and Development, Supachai Panitchpakdi, who has refused to comment.
Whoever their choice, the generals have reserved the right in their interim constitution to sack him.
"The power is in reserve, as it were," said the permanent secretary of the foreign ministry, Krit Garnjana-Goonchorn.
The junta already plans to rename itself the Council for National Security and keep a close eye on the premier and his government.
"If things didn't work out the Council for National Security would not have to resort to non-peaceful means to effect change," Krit said, although adding he did not foresee any condition where they would have to use their power.
The coup, although welcomed by many Thais for ending months of political turmoil, has met with international condemnation.
The United States, Thailand's biggest trading partner and a close ally, on Thursday said it would cut 24 million dollars in military aid in protest.
"The United States continues to urge a rapid return to democratic rule and early elections in Thailand," said State Department spokesman Sean McCormack.
Krit, of Thailand's foreign ministry, brushed off the measure, saying there was "no going back to square one" after decades of democracy.
Thailand's junta on Friday also announced a raft of promotions for military officers who backed last week's coup while sidelining Thaksin supporters.
The changes were announced in an annual reshuffle which had become a point of tension under Thaksin because of fears he was trying to cement his control over the armed forces by promoting loyalists.
A junta spokesman also said the military planned to withdraw tanks and troops from Bangkok by October 4 and hand over security operations to the police.
Surayud was in 1998 appointed the army's commander-in-chief and has been credited with professionalising the force that had been notorious for smuggling, political meddling and human rights abuses.
He retired in 2003, ending a 38-year military career, after he clashed with Thaksin, who had sidelined him to the less influential post of supreme commander.
Surayud then became a Buddhist monk for three months before joining the Privy Council, the inner circle of advisors to King Bhumipol Aduljadeh.
The general -- who has previously said the military should stay out of politics -- said Wednesday he would consider the job if offered to him, in part because he feared possible clashes between Thaksin supporters and opponents.
Source: AFP