PHNOM PENH, Nov 23, 2010 (AFP) - Stunned revellers gathered quietly at the bridge where more 340 people were killed in a stampede hours earlier as the country's most popular festival came to an abrupt and tragic end.
The narrow crossing, its neon light decorations still burning brightly, was closed off to the public but it was still littered with discarded flip-flops, clothing and water bottles, evidence of the nightmare that unfolded there.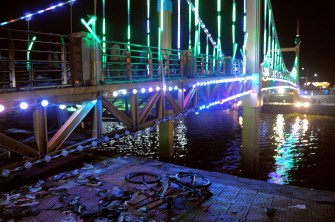 A damaged bicycle is pictured near the bridge where at least 330 people died in a stampede in Phnom Penh on November 23, 2010 while millions were out on the streets of the capital to enjoy the final day of the three-day Water Festival, which marks the reversal of the flow between the Tonle Sap and Mekong rivers. AFP
"I feel very shocked now. It is the first time something like this has happened at the Water Festival," said taxi driver Im Mean as he stood near the bridge that links the city centre with the small island where festivities had been taking place.
"My children and relatives went the first and second day, it was so lucky that they did not come for the last day of the festival," the 47-year-old said, adding that he would not allow his children to visit Diamond Island next year.
Like huge swathes of the city, Diamond Island was in full party mode on Monday evening as the three-day festival, which attracted some three million visitors, drew to a close.
The island had hosted concerts, food and drink stalls and even an ice sculpture exhibition.
But the festive mood turned to shock as crowds on the packed bridge started panicking, triggering a deadly stampede -- and the worst incident to hit Cambodia in decades.
Television footage showed dozens of people piled on top of each other, some still alive and struggling to get out, others clearly dead. Many of the victims appeared to be young Cambodian women.
"I feel terrible," said Pek Luy, a 25-year-old Cambodian student as he and his friends discussed the night's events and strained to catch a glimpse of the bridge.
"People wanted to enjoy themselves and have fun, but then so many people died," he said.
"I think the people will feel scared to go across the bridge after this."