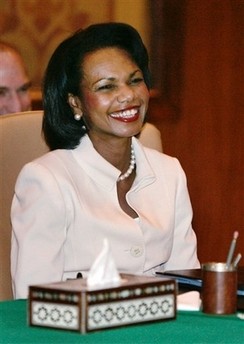 U.S. Secretary of State Condoleezza Rice meets with selected Arab Foreign Ministers at a hotel in the Red Sea resort of Sharm el-Sheik
The United States won no specific new promises of Arab help for struggling Iraq after a gathering Tuesday of several nations listed as recipients of an expanded aid and weapons package for friendly states in the region.
Iraq's Arab neighbors repeated a general pledge to promote stability in Iraq, torn by more than four years of war and bitter sectarian divisions that have killed thousands and driven far more from their homes.
"I think we know what the obligations of the neighbors are," Secretary of State Condoleezza Rice said, adding that Egypt and other U.S. allies are working to meet past promises of relief of Iraq's heavy international debt, additional foreign aid and help tamping down violence inside Iraq.
Rice and Defense Secretary Robert Gates are making a rare joint show of diplomatic force during two days of meetings with Arab allies — part of an 11th-hour effort to rally diplomatic and practical help for the U.S.-backed Shiite-led government in Baghdad. The tour also opens talks on a proposed U.S. arms package for Arab states worth more than $20 billion.
But at a press conference with her Egyptian host, Rice pointed to no fresh commitments from the Arabs. A statement issued following a nine-nation meeting promised only "to continue to support Iraq and expand their financial and political support," and restated a general commitment to blocking would-be terrorists and financing that supports them from entering Iraq.
The Cabinet secretaries are also trying to solidify what the U.S. sees as a bulwark of generally moderate Arab states against an increasingly ambitious and unpredictable Iran.
Unity against Iran is not a hard sell. But Washington has had far less success in rallying Arab help for Iraq that goes much beyond words.
Arab money and diplomatic support has lagged behind Europe's, and some of Iraq's neighbors quietly tolerate, or may secretly support, attacks inside Iraq. Some of the violence targets U.S. forces and some of it Shiite militias and neighborhoods.
For their part, Arab countries may be worried that escalating opposition in the U.S. to the war in Iraq may signal a declining commitment to security in the region.