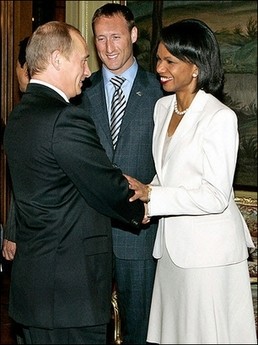 US Secretary of State Condoleezza Rice (R) and Russian President Vladimir Putin (L) in 2006 appear during a meeting in Moscow. (AFP Photo)
US Secretary of State Condoleezza Rice was to hold talks with President Vladimir Putin on Tuesday, with Russian newspapers warning of deep-seated differences dogging the US-Russian relationship.
The meeting in Moscow comes amid an escalation of tensions between the two sides, which Rice was at pains to play down as she arrived in Russia on Monday.
Nonetheless Russian newspapers generally gave a gloomy appraisal.
The independent Vremya Novosti declared that "Rice doesn't feel the cold" and warned that current tensions did not bode well for Putin's forthcoming encounter with President George W. Bush at the Group of Eight summit next month.
The paper gave a downbeat assessment of talks on Monday between Rice and influential First Deputy Prime Minister Sergei Ivanov, saying the "sharpness of the discussion was not eased by the warm atmosphere at dinner afterwards."
Russia remains at odds with the United States on a host of issues, including the status of Kosovo, US plans to deploy missile defence systems in central Europe, future enlargement of NATO and Washington's failure to lift Cold War-era legislation inhibiting trade with Russia, the paper said.
The Izvestia likened Rice's visit to those of her predecessor Henry Kissinger during the 20th century Cold War but said this time Washington had abandoned the principal of "realpolitik" characteristic of that era.
The paper said that in Moscow there was "disappointment with Washington's current path in relation to the new democratic Russia" and complained that "realism isn't part of the policies of today's Washington, unfortunately not only in relation to Russia, but the whole world."
Rice on Monday forcefully rejected talk of a new Cold War with Russia, saying that despite the harder stance by both sides, any suggestion that US-Russian relations could become as bad as they were with the Soviet Union "have no basis whatsoever."
As part of her programme on Tuesday she was due to meet representatives of non-governmental organizations, which have come under pressure from Putin's leadership.
The top US diplomat said she would raise US concerns over anti-democratic developments in Russia and "heavy-handed" moves by Moscow against some former Soviet bloc neighbours.
In downplaying such differences, Rice noted that Moscow and Washington were working together through the United Nations on the Iranian and North Korean nuclear threats, on Israeli-Palestinian peace efforts, on non-proliferation and to support Russia's bid to join the World Trade Organisation.