US Secretary of State Condoleezza Rice is due to meet Palestinian president Mahmud Abbas on Monday after warning she did not expect a major peace breakthrough ahead of a US-sponsored meeting next month.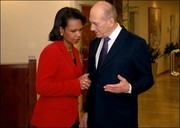 US Secretary of State Condoleezza Rice listens to Israeli Prime Minister Ehud Olmert in Jerusalem on Oct, 14 2007.
Rice heads to the West Bank city of Ramallah following talks with Israeli leaders on Sunday on her seventh trip to the region aimed at advancing the Middle East peace process after almost seven years of deadlock.
"I don't expect out of these meetings that there will be any particular outcome in the sense of breakthroughs on the (joint) document" currently being worked on by Israeli and Palestinian negotiating teams, she said on Sunday.
"So I would just warn in advance not to expect that because it is really a work in progress," Rice said, adding that she expected to be back in the region in a couple of weeks ahead of the planned November peace conference.
Rice also said she would be telling Israel during her meetings that its seizure of Arab land near Jerusalem erodes confidence.
"The point that I will be making is that we have to be very careful as we are trying to move toward the establishment of a Palestinian state about actions and statements that erode confidence in the parties' commitment to a two-state solution," she told reporters travelling with her.
She was responding to a question about Israel's confiscation of land between occupied east Jerusalem and the key West Bank settlement of Maale Adumim last week, reviving fears that the territory could be split in two.
Although Israel informed her that the seized land was earmarked for a road "to improve Palestinian mobility" and was "not imminent," Rice said the timing of such projects was too sensitive in the run-up to the US-sponsored peace conference.
The office of Prime Minister Ehud Olmert, who later met Rice, declined to make any comment on her remarks.
Olmert and Abbas have met four times in the span of two months to prepare for the meeting and newly created negotiating teams are trying to hammer out a joint document ahead of the conference.
But although both sides say they will start final status negotiations after the November conference, there are widespread disagreements over what the joint document, which will serve as a basis for those talks, will say.
The conference is expected to be held in Annapolis, Maryland in November although the date, venue and participants have not yet been announced.
Olmert rebuffed Palestinian calls for a clear timeframe for implementing solutions to the thorniest problems of the decades-long conflict -- borders, refugees and the status of Jerusalem.
"I believe that setting a timetable for such a process would create problems rather than solve problems," he told a cabinet meeting.
"Talks between us and the Palestinians should be balanced and cautious with the intention of reaching a joint statement during the international meeting, although such a statement was never a condition for holding the summit."
Israeli and Palestinian negotiators will also meet Monday to discuss key issues of the document, a senior State Department official said.
"I do think this is going to require a lot of hands of American diplomacy," he said. "I think that these are really tough issues. Some of the regional work cannot be done by the Israelis and the Palestinians alone."
He said it was in the "American national interest to try and see progress on what has been one of the toughest issues facing many administrations".
In a sign that Israel could be hardening its position ahead of the meeting, Olmert announced the appointment of Foreign Minister Tzipi Livni to head the negotiating team.
Livni has generally held a more hardline view over the peace talks than the man who had been expected to head the team -- Deputy Prime Minister Haim Ramon, a close Olmert ally who last week drew heavy fire after saying that sovereignty over Jerusalem should be shared with the Palestinians.