RIO DE JANEIRO (AFP) – Carnival was underway in Rio with millions set to take to the streets for days of rowdy, joyous parades and festivities, bringing the nation to a halt for its annual wild party.
Nearly 800,000 Brazilian and foreign tourists were expected join Rio's six million residents in the celebrations, whose climax comes on Sunday and Monday with the city's top samba schools putting on their extravagant processions led by sexy dancing queens.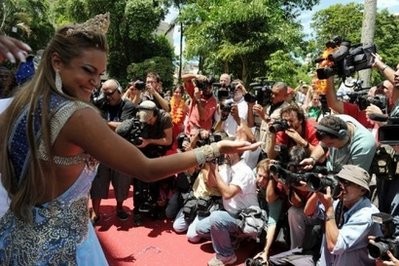 AFP - Rio's carnival Queen Bianca Ferreira (L) performs for the media during the 2011 Carnival opening ceremony in Rio de Janeiro.
Extra security has been deployed to reassure visitors and locals alike -- and to attempt to roll back Rio's deserved reputation for street crime ahead of its hosting of football matches in the 2014 World Cup and the 2016 Olympic Games.
The official launch of Rio's Carnival was given by "King Momo," an honorary figure elected before the partying on the basis of his sizeable girth and jolly nature.
"I give the keys to the city to your majesty," Mayor Eduardo Paes told the symbolic sovereign in a ceremony at the town hall.
"I declare the magnificent Carnival of Rio open!" King Momo replied, as he quick-stepped into a nifty samba dance accompanied by a couple of sequined Carnival queens.
Billed as The Biggest Party of Earth, Rio's Carnival is a magnet for partiers and jetsetters, who rub shoulders with the city's exuberant residents, rich and poor alike.
Hotels are 95 percent booked, the regional hoteliers' association told AFP.
That underlined both the popularity of the event -- and the amount of hotel construction the city badly needs in the next couple of years to accommodate the many more tourists expected to attend the World Cup and the Olympics.
Brazil is already well behind in its preparations for the former, which in turn is worrying for the latter.
With Brazilian authorities all too aware of the reputation for violence Rio has, police reinforcements have been sent out across the state.
Around 50,000 officers have been deployed. Some trained by the United States' FBI will be posted at the Sambodrome, the stadium in Rio that is the venue for the samba school parades.
In addition, officials have installed some 30 new surveillance cameras around the city, each able to monitor a distance of up to two kilometers (1.2 miles).
Authorities also hope that their strategy of chasing drug gangs out of some of the lawless slums that striate the city, and setting up neighborhood police units to maintain control, will pay dividends.
Plans are reportedly underway for US President Barack Obama to visit one such won-back slum when he visits Rio this month after Carnival, on March 20, delivering an international endorsement to the strategy.
Traditionally, however, crime dips anyway during Carnival, a result of both the increased policing, and the fact that the parades are largely a work of pride by the city's poor.
Each of the samba schools invests between $2 million and $5 million donated by public and private sponsors in its parades, to dress up floats and thousands of costumed dancers, all of whom are led by a drum queen wearing little more than feathers, sequins and a non-stop smile.
The parades Sunday and Monday are a competition, watched as assiduously as any football game in this soccer-mad country.
Usually, the school placed last by judges looking at a list of criteria -- choreography, stage design, music, imagination -- is knocked out of the top league, to be replaced by a wannabe school that has its own, less extravagant, contest.
But this year, that exclusion policy is being suspended out of sympathy to three of the schools which lost much of their preparations in a warehouse fire just a month ago.
Those schools have vowed that, even if they won't be as spectacularly dressed as they hoped, they will put on the show of their lives -- displaying Brazil's unstoppable Carnival spirit, whose rhythms and joy are infectious.