Rio put on its final night of Carnival parades, capping days of extravagant processions and street festivities backing the Brazilian city's boast it is host to the Greatest Party on Earth.
Nearly 800,000 Brazilian and foreign tourists have swelled Rio's population of six million to take part in the dancing, drinking, flirting and spectacles underway since last Friday beneath gray, sometimes rainy, skies.
The festival effectively wraps up Tuesday, after the last of a dozen samba schools put on their world-famous parades featuring skimpily clad dancing queens and sumptuous floats costing millions of dollars, although some street festivities will continue for days.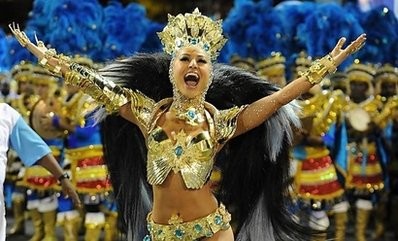 Sabrina Sato of the Vila Isabel samba school performs during the first night of Carnival parades at the Sambadrome in Rio de Janeiro
The all-night parades, held under intermittent drizzle, were in fact a competition fought as intensely as any football game in this soccer-mad nation.
This year, the reigning champion samba school, Unidos de Tijuca, looked set to retain its title after wowing the crowd of 70,000 packed into the Sambodrome parade stadium with a show early Monday paying imaginative homage to Hollywood.
Floats recalling "Avatar," "Jaws" and "Raiders of the Lost Ark" roused wild cheers as a dragon from Pandora flapped its huge wings over a mountain of blue Na'vi aliens, a mechanical shark lunged from a pool with a boy in its mouth and an Indiana Jones dodged a big boulder.
There were also "Legend of Sleepy Hollow" ghouls whose heads appeared to detach and drop in a nifty optical illusion.
The other schools stuck to more traditional representations of myths, such as a near naked Lady Godiva on a horse and a Neptune accompanied by sea worshippers. Brazilian supermodel Gisele Bundchen made an appearance as the goddess Venus.
Many Brazilian media tipped a new victory for Unidos de Tijuca, which last year delivered Batman on skis and a Michael Jackson impersonator doing dance moves on a float inhabited by aliens.
However, among the last schools to parade in the early hours of Tuesday was Grande Rio, which lost almost its entire parades props and floats in a warehouse fire a month ago.
The group, which has since stitched together a hasty replacement wardrobe, was certain to get sympathy cheers after vowing it would put on a show regardless.
Visitors watching the parades have been impressed.
Among the VIPs was Canadian actress Pamela Anderson.
"I love it. I think about this all the time. It's nice to see it live," she told AFP from one of the hospitality boxes.
Joey Whineray, a 27-year-old tourist from Britain who paid $160 for her seat said: "It's manic -- completely off the wall. It's buzzing."
Some, like Nina, a 37-year-old Norwegian, paid for a costume to take part in the parades.
"It's totally incredible. Everything is so well organized, I can't believe it. I went to a rehearsal last week and it looked chaotic. But now everybody knows where to go," she said.