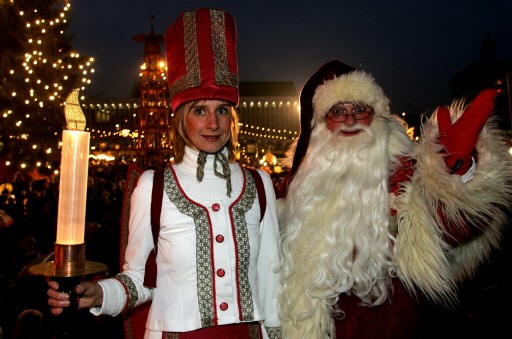 Actors dressed as an angel and Santa Claus pose after opening Germany's oldest traditional Winter Market in Dresden, Nov. 29, 2006 (AFP Photo)
Recovery of the German economy, the biggest in the 12-country eurozone, is feeding into jobs and unemployment has fallen below four million for the first time for four years, data showed on Thursday.
The Federal Labour Agency in Nuremberg calculated that the German jobless total fell by 89,400 to 3.995 million in November in raw or unadjusted terms, bringing the jobless rate down to 9.6 percent from 9.8 percent a month earlier.
It was the first time since October 2002 that the jobless total has been lower than four million.
And both the jobless total and the jobless rate were similarly at their lowest levels since October 2002.
Labour office chief Frank-Juergen Weise attributed the favourable development not only to the ongoing economic upturn, but also to the mild weather.
"Thanks to the stable economy and the mild weather, the usual autumn upturn on the labour market has continued through until November. Unemployment has fallen further and is now below four million," Weise said.
Unemployment generally picks up in the autumn owing to seasonal factors.
But even after taking such factors into account, there was still a noticeable reduction in the jobless queues this month.
Seasonally adjusted data published separately by the Bundesbank showed a decline in the German jobless total of around 86,000 to 4.245 million in November.
The adjusted jobless rate also declined to 10.2 percent from 10.4 percent a month earlier, the German central bank said.
A regional breakdown of the numbers showed that unemployment in the economically more important west of Germany decreased by 63,000 to 2.816 million in seasonally adjusted terms last month, reducing the adjusted jobless rate to 8.5 percent from 8.7 percent.
And in the east, the seasonally adjusted jobless total was down by 23,000 at 1.429 million, cutting the jobless rate to 16.7 percent from 17.1 percent.
Separate employment statistics published by the federal statistics office, Destatis, underlined the positive trend on the labour markets, showing an increase of 28,000 in the number of people in employment in October compared with September. That brought the total number of jobs created since the beginning of the year to 347,000.