BEIJING, Nov 16, 2010 (AFP) - A Chinese state-backed plane maker on Tuesday won orders for 100 of its new jets, challenging industry giants Airbus and Boeing in what could become the world's largest aviation market.
China's three largest airlines signed deals to buy the C919 -- unveiled at a major airshow in southern China -- as did other firms including the aircraft leasing arm of General Electric, the state Global Times newspaper said on its website.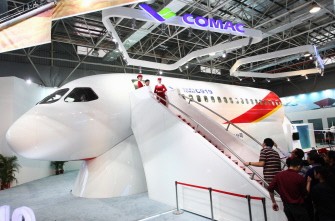 Visitors inspect the C919 prototype at an aviation exhibition during the Zhuhai Airshow, in south China's Guangzhou province on November 16, 2010. AFP
The airlines involved were Air China, China Southern and China Eastern, which are benefiting from a massive expansion in demand for air travel in increasingly prosperous China.
Commercial Aircraft Corporation of China (COMAC), the jet's manufacturer, announced the deals at the Zhuhai Airshow in Guangdong province, but did not say how many planes were in each order or the prices agreed.
The C919 -- a single-aisle jet that can seat up to 190 passengers -- is China's first domestically manufactured medium-to-large sized passenger jet, and is seen as a potential competitor to the Airbus A320 and the Boeing 737.
A prototype of the plane was unveiled in Zhuhai on Monday. The plane is due to make a trial flight in 2014 and should be delivered to clients in 2016.
Wu Guanghui, COMAC vice president, said the firm had forecast demand for C919s in the domestic and overseas markets to hit 2,000, according to the official China Daily. He did not give a timeframe for the estimate.
COMAC refused to comment when contacted by AFP.
The plane is part of China's plans to break the dominance of Airbus and Boeing as it currently relies on the two foreign firms to support its domestic aviation market -- the world's second largest after the United States.
Just two weeks ago, the European planemaker signed a deal worth 14 billion dollars to supply 102 planes to Chinese firms.
Airline traffic in China is expected to exceed 700 million passengers a year by 2020, and double that by 2030, state media has reported, quoting the Civil Aviation Administration of China (CAAC).
This year, passenger numbers are due to hit 260 million, according to official forecasts -- a 13 percent rise from 2009.
The head of CAAC also said last month that the country would have up to 5,000 aircraft to transport passengers and cargo by 2015, state media reported.
In September Airbus spokesman Rainer Ohler said China would be "the number one aviation market in the next 20 years, unseating the United States".
News of the signings comes just one day after China announced plans to ease controls on low-altitude flights in a move that could boost the nation's fledgling private aviation sector.
Current regulations are strict, requiring private pilots to apply for hard-to-get approval to fly in low-altitude airspace.
The official People's Daily said the reform was expected to encourage more people to own private jets and give a boost to other civil aviation missions such as the use of disaster-relief helicopters.
The Asian nation, with the world's second-largest number of dollar billionaires, is widely viewed as a potentially rich future market for private and leisure aviation.