SANAA, Sept 22, 2011 (AFP) - Rival troops battled in the streets of the Yemeni capital for a fifth straight day Thursday, following the failure of a diplomatic bid to end the deadliest violence since mass anti-regime protests swept the country.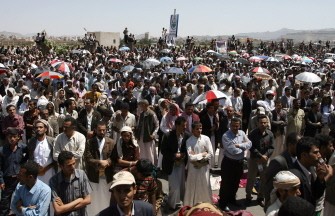 AFP - Yemeni opposition supporters attend a group funeral on September 21, 2011 for anti-regime protesters killed in recent clashes with security forces loyal to Yemeni President Ali Abdullah Saleh in Sanaa.
Sporadic gunfire was heard throughout the night but later erupted into a full blown confrontation between troops loyal to President Ali Abdullah Saleh and combatants of dissident General Ali Mohsen al-Ahmar.
Residents said the fighting occurred near the southern entrance of Change Square, the base of the anti-government protesters who have been calling for Saleh's resignation since January.
There were no immediate reports of casualties.
In all, some 85 people, mostly unarmed civilians targeted by security forces or caught in the crossfire of the rival military units, have been killed in five days of clashes that first erupted on Sunday.
Meanwhile, a diplomatic official who requested anonymity told AFP that a Gulf mediator who left Sanaa after failing to broker a peace deal would head to New York to discuss Yemen's deteriorating security situation with Gulf foreign ministers.
Abdullatif al-Zayani, the Gulf Cooperation Council chief, left Yemen Wednesday empty-handed, saying the country's political rivals are not ready for an agreement, the Yemen's official news agency reported.
Both warring parties have thrown out accusations, each blaming the other for violating a truce agreed upon late Tuesday.
Meanwhile, Saleh has remained mostly silent in the face of the escalating violence. He left Sanaa for the Saudi capital Riyadh in June to receive medical treatment after being wounded in a bomb attack on his presidential compound.