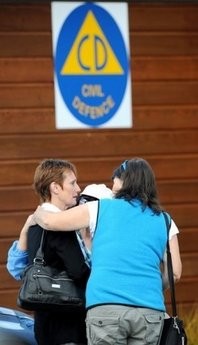 Family and friends of the 29 trapped coal miners caught underground after an explosion in the mine comfort one another near the New Zealand town of Greymouth on November 23, 2010. AFP
GREYMOUTH, New Zealand (AFP) – Hopes were fading Tuesday for 29 men missing after a New Zealand mine explosion, as angry relatives expressed frustration at the stalled rescue operation now in its fifth day.
Rescue hopes were dealt a fresh blow when a remote-controlled robot sent into the Pike River mine to collect vital data broke down and the drilling of a bore hole stalled when it hit hard rock.
"This is a very serious situation and the longer it goes on, hopes fade, and we have to be realistic," police superintendent Gary Knowles, who is coordinating rescue efforts, told reporters.
"We are planning for all options and if one of the options means that those guys that are underground are not alive we are planning for that," he said of reports that disaster identification teams had been called for.
The trapped miners have not been heard from since the explosion tore through the remote South Island colliery on Friday, with frustrated rescuers unable to go underground due to a cocktail of dangerous gases.
News of the latest set backs left the families of the 29 men distraught when they were briefed by Knowles that the robot broke down 550 metres (yards) into the tunnel, about two kilometres from where the men are.
"There's a certain amount of anger right now," Grey District mayor Tony Kokshoorn told AFP. "We've had a kick in the guts, the robot went in the tunnel, it got water in it and short-circuited, it's history.
"It's terrible. we're going into the fifth day and we're hearing this type of thing," he added.
Laurie Drew, whose son Zen is trapped in the mine, said the patience of the families was wearing thin.
"The grief, frustration and probably the anger will really start coming out if we get the same sort of information we have been given," he told Radio New Zealand.
The trapped men include 24 New Zealanders, two Australians, two Britons and a South African.
If the miners had made their way to one of the safe refuges in the mine they would have access to water and possibly compressed air but the only food they had was the lunch they took with them on their shift.
Rescuers had hoped the camera-equipped robot would send back images of conditions in the mine and Knowles said arrangements were being made to rush advanced robotic equipment in from Australia and the United States.
A seismic device had also been attached at the tunnel entrance to monitor any signs of life.
"We are listening for any movement, any tapping, and any sound of noise underground. This will not record voices but it will give us an indication if anyone is tapping to show they're alive," Knowles said.
New Zealand Mines Rescue general manager Trevor Watts said his men were ready to go down the mine at a moment's notice.
"I cannot express the frustration that our guys feel," he said, adding there were 65 rescue personnel waiting for the green light to enter the mine as soon as gas levels ease sufficiently.
"It's not so much the toxicity but for explosibility. That is the key area.
"The conditions that our rescue personnel are going to face is potentially going to be hostile."
Pike River mine chief executive Peter Whittall said drilling of a bore to take gas samples from near where the miners were believed to be had hit problems with hard rock at 142 metres.
They had switched to a diamond bit to drill the final 20 metres but he said that would take several hours.
Kokshoorn said the families had pinned their hopes on the robot and questioned why the defence force device was not properly water-proofed because it was known there was water in the tunnel.
"Our only hope for further information is the hole," he added, referring to a bore hole.
The 15-centimetre (six-inch) hole, when completed, will be used to take air samples while laser-imaging equipment and video cameras will also be sent down.
Whittall said there was no active mining at the time of the explosion while maintenance work was being carried out.