Sir Bobby Robson's death after a long battle with cancer triggered an emotional response as the likes of Jose Mourinho and Fabio Capello paid tribute to the former England coach.
Robson passed away aged 76 at his family home in County Durham, north-east England, early on Friday and within hours the world of football had shown their love and respect for one of the sport's true gentlemen.
His remarkable 56-year career as a player and manager included taking England to the 1990 World Cup semi-finals, transforming unfashionable Ipswich into a European force and taking charge of major clubs like Barcelona, Porto, PSV Eindhoven and his boyhood team Newcastle.
But it was Robson's unrelenting enthusiasm for the game and his generous personality that made the biggest impression on everyone who came into contact with the genial Geordie.
As a mark of respect, flags at the Civic Centre in Newcastle were lowered in tribute, while Barcelona, PSV and Ipswich all released statements expressing their sympathy to Robson's family and saluting his achievements with their teams.
Newcastle and Ipswich fans flocked to their club's stadiums to lay flowers and scarves and write messages in praise of Robson.
At Newcastle, fans inside the ground chanted Robson's name after the squad and staff held a minute's silence on the centre circle, while first teamers Steve Harper, Shola Ameobi and Steven Taylor carried a wreath of white lilies on to the pitch.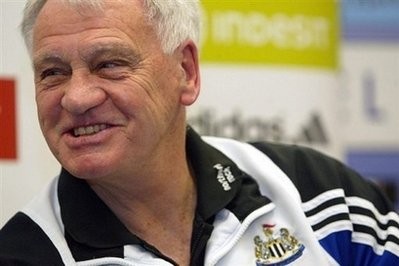 Former England and Newcastle manager Sir Bobby Robson, seen here in 2004,
Inter Milan manager
Jose Mourinho was given his first big break by Robson, who employed the Portuguese as a coach and interpreter during his spells at Barcelona, Porto and Sporting Lisbon.
Mourinho has never forgotten Robson's role in his rise to prominence and the former Chelsea coach said: "It is difficult to accept such a person is no longer with us, but he is immortal because he leaves in everybody who knows him a mark of his personality - a great coach but, more than that, a great person."
Fabio Capello, one of Robson's successors as England coach, summed up Robson's gift for communicating with people as he revealed a recent encounter with the ailing boss.
"Sir Bobby was a wonderful man, a real gentleman," Capello said. "His spirit and courage was incredible. To fight cancer so many times really showed the strength of the man.
"I recall the tribute dinner hosted for Bobby when he wasn't planning to say more than a few words. In the end he stayed on the stage for a very long time, telling story after story, much to everyone's amusement."
Terry Venables, another former England and Barcelona coach, added: "Bobby fought everything that has been thrown at him. You thought he was indestructible.
"I spoke to him about five weeks ago on the phone and he was talking about football. He was trying hard to battle away (at his cancer). He's shown great bravery."
After playing for Fulham, West Brom and England, Robson earned his managerial reputation during 13 years at Ipswich, winning the FA Cup in 1978 and the UEFA Cup in 1981.
A year later Robson was appointed England coach and he took the team to the quarter-finals of the World Cup in 1986 before Diego Maradona's infamous 'hand of god' goal condemned Robson's team to a 2-1 defeat.
His last World Cup came in 1990 when England, inspired by a young Paul Gascoigne, reached the semi-finals before losing on penalties to West Germany.
More success followed with PSV, Sporting Lisbon and Porto before Robson led Barcelona to the Spanish Cup and Cup Winners' Cup.
In 1999 he made a romantic return to Newcastle at the age of 66 but was unable to end the club's long wait for silverware.
Robson was knighted in 2002 but two years later Newcastle chairman Freddy Shepherd sacked him despite a fifth place finish in the Premier League the previous season.
He was first diagnosed with cancer in 1992 and endured several more serious scares before a routine check-up in February 2007 revealed more tumours on his lungs. This time they were inoperable.
Sir Bobby is survived by his wife Lady Elsie and their three children, Andrew, Paul and Mark.