ZURICH, April 27, 2009 (AFP) - Swiss pharmaceutical group Roche said Monday it was ready to send out more stocks of its antiviral drug Tamiflu in response to the swine flu outbreak, but had not yet received any requests.
"We are ready to send its as soon as the World Health Organisation asks," a company spokesman told AFP.
So far however, there had been no concrete request for help he added.
Some 220 million doses of Tamiflu, a medicine to treat influenza and viruses, were in the hands of governments worldwide, the company said in February.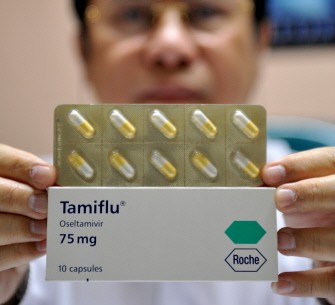 An Indonesian infection hospital official holds a Tamiflu package in Jakarta on April 27, 2009 (AFP photo)
Many states built up emergency reserves stocks of the drug following bird flu outbreaks in recent years and warnings from the World Health Organiation that the virus could evolve into a pandemic strain.
Swine flu has been blamed for dozens of deaths in Mexico over the past month and on Sunday the United States declared a health emergency amid signs the disease was spreading.
WHO officials warned Sunday that the new strain, apparently born when human and avian flu viruses infected pigs and became mixed, could mutate further.
Health officials have said oseltamivir, or Tamiflu, appears to be effective in treating patients.