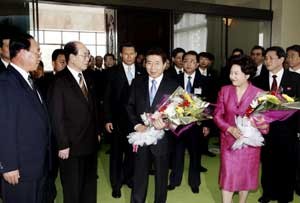 RoK President Roh Moo-Hyun (C) and his wife hold bouquet of flowers as they are welcomed by DPRK's officials, Oct. 2, 2007. (AFP Photo)
Republic of Korea's president is satisfied with the outcome of his summit with Democratic People's Republic of Korea leader Kim Jong-Il, Seoul's spokesman said in Pyongyang Wednesday.
"We estimate that the talks were sufficient and candid and have achieved good results," President Roh Moo-Hyun's spokesman said on live TV.
"President Roh himself said he was satisfied with the outcome. We will be able to announce the outcome in the form of a declaration before tomorrow's lunch."
However RoK president declined DPRK leader's offer extending the rare ongoing inter-Korean summit by an extra day.
DPRK's Kim Jong Il made the proposal as he resumed talks with RoK's President Roh Moo-hyun after a lunch recess earlier Wednesday, fueling hopes for progress in the peace process between the two Koreas, technically at war since the 1950-1953 conflict.
After consulting officials accompanying him on his historic visit to the reclusive Communist state, Roh Moo-hyun chose not to except the offer and to return to Seoul on Thursday as planned, the agency said.
Source: AFP