Republic of Korea (RoK) Friday hailed a sweeping free trade agreement with the European Union, saying it would swell commerce by billions of dollars, cut living costs and make the nation's industry more competitive.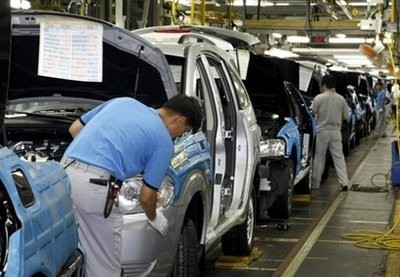 South Korean workers assemble cars at a plant in Pyeongtaek, August 2009. The European Union and South Korea signed a free trade deal which Brussels said would be worth 19 billion euros (28 billion dollars) in new trade for EU exporters. (AFP Photo)

The deal signed Thursday in Brussels is the first between the world's largest single trading bloc and an Asian nation. Seoul officials hope it will spur the US Congress to ratify a similar agreement.

The EU is RoK's second largest trading partner after China. The bloc's exports to the country, Asia's fourth largest economy, were worth 40 billion dollars last year while imports reached 58.4 billion dollars.

According to Seoul, the two sides will phase out tariffs on 96 percent of EU goods and 99 percent of South Korean exports within three years.

The Ministry of Knowledge Economy said exports of Korean cars, ships and home appliances would get a boost although agriculture would suffer.

"The EU is the most attractive market for us, which brings us the largest trade surplus," the ministry said in a statement.

When the pact takes effect bilateral trade is expected to increase by 4.7 billion dollars every year, it said.

The ministry in an earlier statement said the deal will become "the driving force to enhance the competitiveness of our industry" and bolster the country's international credibility.

The finance ministry has said the FTA will cut living costs, widen choice for Korean consumers and raise living standards.

The European carmakers' trade association, ACEA, has slammed the deal for allegedly allowing unfair competition, and says it will only add to Europe's trade deficit with South Korea.

The pact must be ratified by RoK legislators and all 27 EU member nations plus the European Parliament. The knowledge economy ministry said it hopes the deal can go into force next July.

The Korea Institute for International Economic Policy has estimated it will eventually increase trade by up to 20 percent.

JoongAng Ilbo newspaper welcomed the signing after some two years of negotiations, saying it would encourage ratification of the deal with the United States and jump-start proposed pacts with China and Japan.

The Obama administration has put the deal on hold to address concerns among US automakers.

The Korea Times said the agreement "has significant implications on Seoul's efforts to open its market wider to foreign competition and advance to major economies around the globe."

But it urged Seoul to work to minimise the impact on the agriculture, livestock, pharmaceuticals, finance and legal service markets.