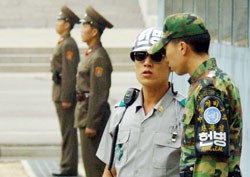 Two parties' soldiers stand at the border between them
Democratic People's Republic (DPRK) 's nuclear and conventional weapons pose a serious threat to Republic of Korea (RoK), Seoul's defence ministry warned Friday.
The ministry, in a biennial White Paper, said the North produced an estimated 30 kilograms (66 pounds) of plutonium over the past three years -- enough to make up to five atomic bombs.
The North had also acquired some 200 artillery pieces which could strike Seoul when sited along the border, and about 40 percent of its 820 fighter jets were just north of the frontier -- minutes away from the South's capital.
"Considering the seriousness of threats from the nuclear test and weapons of mass destruction (WMDs), we defined the North's military strength as a serious threat in this year's edition," ministry policy planner, Major-General Chung Seun-Jo, told reporters.
The White Paper refused, however, to call the hardline communist state a fully-fledged nuclear power, despite its October 9 test which sparked international alarm and UN sanctions.
The government sees the test as a partial success, Chung was quoted by Yonhap news agency as saying. "We believe (the device) is less powerful than a normal nuclear weapon and little more powerful than a conventional bomb."
US intelligence officials at the time estimated the force of the blast at as low as the equivalent of 200 tons of TNT, but confirmed it was caused by a nuclear device.
The hardline communist North and capitalist South have remained technically at war since the 1950-53 conflict which began with an invasion by the North.
Some 680,000 RoK troops, backed by 29,500 US soldiers, are confronting the potential threat from the North's 1.1 million-strong military.
"DPRK's conventional military strength, nuclear test, WMDs and deployment of its armaments along the front line are serious threats to our security," the report said.
It said the North "is estimated to have obtained an additional 30 kilograms of plutonium if it reprocessed spent fuel rods in 2003 and 2005 as it had claimed".
The North is also believed to possess up to 14 kilograms of plutonium it obtained in the early 1990s, extracted from spent fuel rods at its Yongbyon nuclear reactor.
Five DPRK fighter jets are known to have crashed since 2004, in a possible indication of problems with ageing weaponry. But the White Paper said its air capability continued to pose grave concerns for the South.
Six-nation talks aimed at persuading the north to scrap its nuclear programmes ended in apparent stalemate a week ago.