Rolls-Royce may replace up to 40 engines on Airbus A380 superjumbos flown by three airlines, Qantas said Thursday, after a mid-air explosion sparked safety fears over the world's biggest passenger jet.
The number accounts for nearly half the Trent 900 engines powering A380s operated by Qantas, Singapore Airlines and Germany's Lufthansa, and follows extensive checks after the November 4 blast over Indonesia.
"Rolls may have to look at replacing up to 40 engines across the entire A380 fleet," a Qantas spokeswoman told AFP.
"That includes the Singapore fleet and the Lufthansa fleet. Obviously Qantas doesn't have 40 engines to replace, we only have six aircraft with four engines each," she added.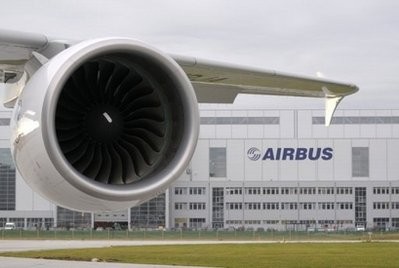 View showing an Airbus A380 engine at the plane-maker's plant in Hamburg
Qantas chief Alan Joyce said that up to 14 of the airline's A380 engines could potentially need to be replaced, leaving it unclear when its fleet of A380s will resume flying their routes to Los Angeles and London.
Rolls-Royce had already been in the process of modifying the engines to prevent oil leaks, but none of Qantas's turbines had been updated, Joyce said.
Australia's national carrier grounded all six of its A380s following the explosion, which forced an emergency landing in Singapore. Qantas earlier said it will need at least three new engines after safety checks found oil leaks.
Singapore Airlines has grounded three of its 11 A380s and Lufthansa is changing an engine on one of its three superjumbos as a precaution, while other A380 operators use turbines made by different manufacturers.
"Rolls-Royce are still working through the criteria for which engines need to be changed," Joyce told reporters.
"We're hoping to understand precisely which engines need to be replaced and therefore we can have a firm timeline for when they will be back in the air, but we are still a few days away from that," he added.
Joyce said the British manufacturer had modified the Trent 900 engine to stop oil leaks before the blast and "if this incident hadn't occurred, eventually all these engines would have had this modification".
"It doesn't look like it is a significant modification, but it is a modification that has an impact on how the engines are performing," he said.
"If this was significant, and was known to be significant, we would have liked to have known about that," he added.
Qantas would discuss compensation for disruptions to its schedule with Rolls-Royce once the A380s returned to service, Joyce said. Rolls-Royce was not immediately available to respond to the latest comments.
Rolls-Royce has pinpointed a "specific component" in the Trent 900 as the cause of an oil fire behind the November 4 blast. Each A380 is powered by four engines.
The Qantas spokeswoman said she was unable to give a "definitive answer" on when its Airbus superjumbo would return to the skies, refusing to confirm a report which said it could remain out of action until at least early December.
A new-for-old engine swap programme was among options being discussed with Rolls-Royce to speed up the resumption of A380 services, she added.
Joyce said the A380 issues had reduced Qantas's flying capacity by between four and five percent.
The double-decker A380, which carries 525 passengers and weighs 560 tonnes at takeoff, was hailed as the future of long-haul aviation at its commercial launch in 2007.
Rival manufacturer Boeing's Dreamliner is about three years behind schedule after a series of glitches, including an on-board fire last week which forced it to cancel test flights.