Authorities in Rome have been moving to try to calm concerns that Wednesday's Champions League final risks being marred by fan violence.
Rome has been somewhat unkindly nicknamed 'Stab City' by English fans and press alike due to a number of previous incidents over the years where English fans have been stabbed by AS Roma supporters when coming to the Italian capital to watch their team in the Champions League.
There was even a campaign in a British newspaper earlier this year to try to get the venue changed from Rome, something which outraged the Italians.
And the British Foreign Office has now sent out warnings for fans to avoid certain 'hot spots' such as the Ponte Duca d'Aosta where Roma's Ultras have previously laid in wait for English fans.
Rome is already mobilising for the influx of more than 50,000 fans - at conservative estimates - who will mostly start arriving on Tuesday afternoon through to Wednesday morning.
The sale of alcohol throughout the city, in supermarkets as well as bars and restaurants will be banned from Tuesday to Thursday, meaning English fans in particular will have to be creative if they wish to get drunk.
Even in FergieFields, a private area being set up for United fans that can hold up to 2,000 people, alcohol will be off limits.
But despite the alcohol ban another worry is the lack of big screen TVs, which won't be set up around the city for ticketless fans to watch the game.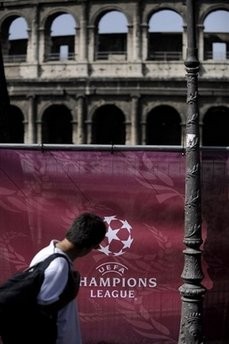 A visitor walks by a UEFA Champions League soccer logo in front of the ancient Colosseum at the Champions Village in Rome's Colle Oppio,
That means the thousands of expected fans coming to the city but can't get into the ground will be crammed into bars and pubs, other potential flashpoints.
But Rome prefect Giuseppe Pecoraro insists things won't be as bad as everyone is making out.
"Rome won't be a militarised city but over these last few days we've been working so that this important event can take place in the calmest climate possible," he said.
One thing the city's police have provided is two welcome areas, one each for English and Spanish supporters in two large squares, although not the more common congregational areas in the city such as Campo di Fiori, Piazza Navona and Pantheon.
"We've left nothing to chance but we're not excluding the possibility of individual incidents of violence which often happen at these types of events due to alcohol abuse," said police chief Giuseppe Caruso.
However, despite the obvious scaremongering about Rome, the city is actually worried about the potential it will give off a bad image and mayor Gianni Alemanno has called on citizens, businesses and fans to do their home town proud.
"We all must be aware that the possibility of Rome hosting other events will depend on the success of this sporting event," he said.