LONDON, April 30, 2011 (AFP) - Prince William and Kate were "buzzing with happiness" on their wedding day, and their evening reception was a "magical" affair with "hysterical" speeches, their photographer revealed Saturday.
Millie Pilkington, a friend of the bride's family, took informal pictures of the new Duke and Duchess of Cornwall after the ceremony at Westminster Abbey, which will be kept private for the couple to remember the event.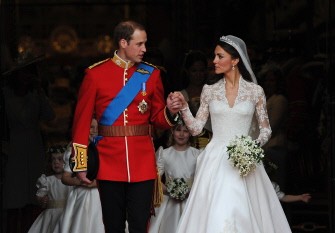 AFP - Britain's Prince William and his wife Kate, Duchess of Cambridge, come out of Westminster Abbey following their wedding ceremony, in London, on April 29, 2011.
"They were drawn to each other magnetically throughout the day. Their love for each other was so evident. Everyone could see it. They just looked like they had been made for each other," she said Saturday.
"They were buzzing with happiness and seemed to be having the best day of their lives, as indeed we all were."
Despite the millions of people watching her all over the world, Pilkington said Kate had an "air of calm and serenity" throughout the day, adding: "They just looked so relaxed and happy with each other. It was wonderful."
After the formal photographs were taken of the couple and they made their appearance on the balcony of Buckingham Palace to kiss before the cheering crowds below, Pilkington shadowed the newlyweds for most of the reception.
She captured some "lovely, informal, intimate shots that I hope they will treasure forever", she said.
In the evening, the 39-year-old photographer said, "it became the wonderful, intimate family affair, the family wedding that I photograph all the time".
Pilkington said Kate was "very sweet", recalling: "She said 'If you don't want to photograph in the evening, please don't. Put your camera down, relax, have a good time, you're here as a guest, and enjoy it'.
"But to be a photographer and to be surrounded by that much beauty, the location, all these stunning guests, I couldn't stop, so I photographed all night and to the early hours of the morning."
Asked about the speeches, she said: "They were hysterical, absolutely hysterical."
Pilkington said the evening party was "almost more magical" than the rest of the day, adding: "The whole thing was incredible."