MOSCOW, Aug 6, 2010 (AFP) - Russia, the world's third wheat exporter, has banned grain exports until the year end after a record drought and fires ravaged millions of hectares (acres) amid a scorching heatwave.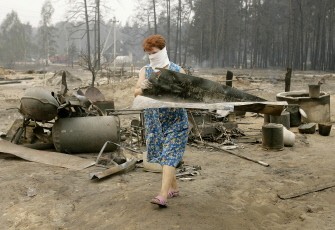 Russian woman Olga Ivanova cleans up debris from the charred remains of burnt out homes in the village of Peredeltsy on August 5, 2010. AFP
Wheat futures shot up to new two-year highs on commodities markets after the shock announcement from Prime Minister Vladimir Putin on Thursday raised concerns about global grain supplies.
The ban comes as Russia struggles to contain the worst wildfires in its modern history that have killed 50 people, with the blazes spreading to the country's south and raising concerns about radiation levels.
"In connection with the unusually high temperatures and the drought, I consider it right to impose a temporary ban on the export from Russia of grain and other products produced from grain," Putin told a government meeting.
Russia earlier this week slashed its 2010 grain harvest forecast to 70-75 million tonnes, compared with a harvest of 97 million tonnes in 2009, owing to the worst drought for decades.
Last year, Russia exported 21.4 million tonnes of grain and observers had already warned that could be sharply lower this year owing to the drought.
The prime minister's spokesman Dmitry Peskov said the export ban would come into force August 15 and remain in place until December 31.
"We must not allow an increase in domestic prices and must preserve the headcount of our cattle," Putin said in comments broadcast on state television.
Putin signed a decree imposing the ban which also stated that Russia would ask fellow members of a regional customs union -- Belarus and Kazhakhstan -- to make a similar move. Kazakhstan is also a major world grain exporter.
"There can only be one comment -- shock," said Vladimir Petrichenko, director of the Prozerno agricultural analytical firm.
"We will only be able to return to the global markets with a tarnished reputation, with losses," he told Interfax.
Russia's policy after December 31 would be determined by the results of the harvest, Putin said. Russia has seen 20 percent of its arable land (10 million hectares, 24.7 million acres) destroyed in the heatwave.
The severity of the drought has seen states of emergency declared in 27 regions.
Emergencies Minister Sergei Shoigu said earlier that the overall number of fires across Russia had fallen "but not so much that we can rejoice."
Shoigu said the emergency services were working flat out to prevent the fires spreading to a region in western Russia where the soils are still contaminated by the Chernobyl nuclear catastrophe of 1986 in neighbouring Ukraine.
Wildfires that have been raging around Moscow for a week also forced the Russian defence ministry to order the evacuation of munitions from a military depot near the capital, the Ria Novosti news agency reported.
"Because of the danger posed by fires in the region ... the weapons, artillery and missiles at a munitions depot," at Alabinsk, about 70 kilometres (43 miles) southwest of Moscow, have been "transferred to a secure site," a defence ministry spokesman said.
Putin also announced that agriculture producers who had suffered as a result of the drought would receive financial aid totalling 35 billion rubles (1.17 billion dollars).
Concerns about Russia -- coupled with a drought that has also hit Ukraine and Kazakhstan as well as a low harvest in Canada -- had already led to a spike in global wheat prices to two-year highs.
On Euronext, the November milling wheat future jumped after Putin's announcement to 226 euros per metric tonne, up 8.25 percent on the day.
In Chicago, September wheat shot up to 7.83 dollars a bushel from 7.26 dollars while the December contract jumped to 8.09 dollars from 7.55 dollars.
Russia's average annual domestic consumption of grain is estimated at around 77 million tonnes and Putin said the country currently has reserves of 9.5 million tonnes.