New Russian President Dmitry Medvedev and Chinese leader Hu Jintao said here Friday a planned US missile shield would set back international disarmament efforts.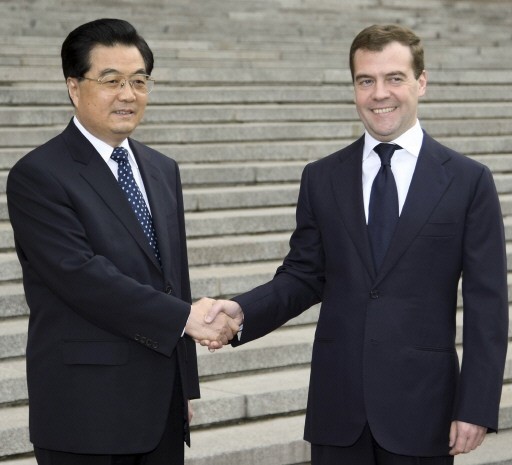 Russian President Dmitry Medvedev (R) shakes hands with his Chinese counterpart Hu Jintao in Beijing on May 23, 2008. (AFP Photo)
"We express our concerns on this subject," Hu and Medvedev said in a joint statement after they met here. The Russian leader had arrived in Beijing on Friday on his first trip abroad since taking office.
"The creation of a global anti-missile defence system, including its deployment in certain parts of the world or moves in that direction, would not contribute to maintaining strategic balance and stability," the statement said.
It said the plan "hinders international arms control and non-proliferation efforts as well as cooperation between states and regional stability."
The United States has proposed to site a radar in the Czech Republic and interceptor missiles in Poland as part of a shield to defend against states it considers a threat, such as Iran and North Korea.
On the same day, China and Russia signed a one-billion-dollar deal to expand a nuclear energy facility in the Asian nation, a Russian official said.
"We have completed negotiations on construction of a uranium enrichment factory," Sergei Kiriyenko, head of the Russian nuclear agency Rosatom, told reporters in Beijing.
He was speaking during a visit to Beijing by new Russian President Dmitry Medvedev, who is on his first foreign trip since taking office this month.
The deal will include construction of a fourth block of a nuclear facility that enriches uranium in China as well as the delivery of partially enriched Russian uranium, Kiriyenko said.
"The contract is worth more than one billion dollars, about 500 million dollars for construction and another 500 million for delivery of uranium," Kiriyenko said.
China has been seeking to expand its use of nuclear power, which accounts for less than two percent of its total energy production.
The fast-growing economic power is highly dependent on coal, which is blamed for worsening pollution and proved risky when supplies were cut off by severe snowstorms during the winter.
Russia has been competing with Western nations and Japan for a slice of China's nuclear power market.