A regional group led by Russia and China said Thursday it opposed military intervention in the Middle East, a day after the Syrian opposition accused forces loyal to the regime of massacring 100 people.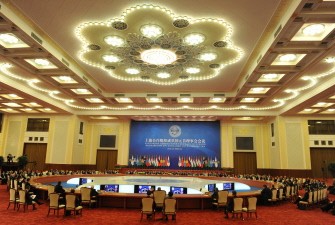 Chinese President Hu Jintao chairs the closing session of the Shanghai Cooperation Organization (SCO) summit in the Great Hall of the People in Beijing on June 7, 2012.
The Shanghai Cooperation Organization (SCO) statement called for a "peaceful resolution of the Syrian problem through political dialogue", adding the use of force against Iran -- an ally of both Beijing and Moscow -- was "unacceptable".
"Member states are against military intervention into this region's affairs, forcing a 'handover of power' or using unilateral sanctions," said the declaration, issued at the end of a summit in Beijing attended by the leaders of Russia, China and Iran, among others.
Moscow and Beijing have consistently opposed international intervention in Syria, but they face growing pressure to change their stance after 15 months of conflict in which more than 13,500 people are said to have died.
On Wednesday, an exiled opposition group said forces loyal to Syrian President Bashar al-Assad had "massacred" about 100 people including women and children -- a claim the regime denied -- as the US demanded a full transfer of power.
The call by US Secretary of State Hillary Clinton set the stage for a renewed diplomatic stalemate.
Russia and China have vetoed two Security Council resolutions against Assad's regime, but backed UN-Arab League envoy Kofi Annan's blueprint to end the conflict.
The Annan plan was supposed to begin with a ceasefire from April 12, but doubts have emerged about its effectiveness as violence has raged on despite the deployment of nearly 300 UN observers.
The SCO statement also expressed "serious concern about the situation around Iran", which is an observer nation to the organisation that groups together China, Russia, Kazakhstan, Tajikistan, Uzbekistan and Kyrgyzstan.
"Any attempts to solve the Iranian problem with force are unacceptable and could lead to unpredictable circumstances that threaten stability and security in the region and the entire world," it said.
The West believes Iran is trying to develop an atomic bomb under cover of a civilian programme, but Tehran insists its intentions are purely peaceful and the situation has brought about a shaky standoff.
On Wednesday, Chinese Premier Wen Jiabao told Iranian President Mahmoud Ahmadinejad that Beijing was against any Middle Eastern country seeking to acquire nuclear weapons, China's state-run Xinhua news agency reported.
"China opposes any Middle East country's push to acquire nuclear weapons and upholds that the Iranian nuclear issue should be addressed through diplomatic channels in an impartial way," Wen said.
Russia's President Vladimir Putin was due to meet Ahmadinejad later Thursday on the sidelines of the Beijing summit as Moscow prepares to host more talks later this month aimed at finding a diplomatic solution to the Iranian dispute.
Putin was also to hold talks with Afghanistan's President Hamid Karzai, with the SCO signalling an increased role in the conflict-riven nation as NATO forces prepare to pull out.
"Member states are for building an independent, neutral, peaceful, and flourishing state in Afghanistan, free of terrorism and drug trafficking," said the SCO declaration.
"They believe that the national peace process in Afghanistan should be directed and led by Afghans."