Secretary of State Hillary Clinton Tuesday presented a united front with Russia on the nuclear showdown with Iran but Moscow stopped short of backing US calls for sanctions if diplomacy fails.
On her first trip to Russia as chief US diplomat, Clinton praised Moscow for its "extremely cooperative" behaviour in the standoff over Iran's programme, which Western nations fear hides a drive to build a nuclear bomb.
But she won no clear public pledge from Moscow that it would back tougher steps like sanctions if negotiations failed, something an aide on Monday said she had hoped to achieve.
Foreign Minister Sergei Lavrov of Russia, which has strong commercial links with Iran, bluntly stated that for the moment it would be wrong to talk about a fourth round of United Nations Security Council sanctions on Tehran.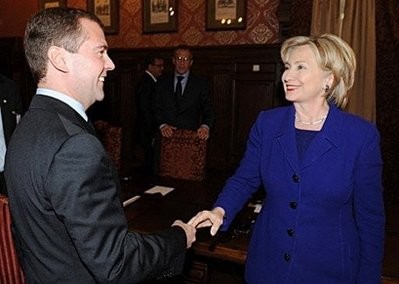 Russian President Dmitry Medvedev (L) shakes hands with US Secretary of State Hillary Clinton (R)
"Threats of new sanctions and pressure against Iran under current circumstances are counterproductive," Lavrov said, at a time when Iran has entered into talks with the United States, Russia and other powers.
"There are situations where sanctions are inevitable, when all other avenues are exhausted. But with Iran we are very far from this."
A senior US administration official later said he was "surprised" by how strong Lavrov's statement was, but insisted Russia and the United States were on the same page on Iran.
A US official had earlier said Clinton would ask Lavrov and President Dmitry Medvedev "what specific forms of pressure Russia would be prepared to join us and our other allies in if Iran fails to live up to its obligations."
He listed sanctions as among such means of pressure.
But a State Department official, speaking to reporters on condition of anonymity, told reporters Tuesday that the Russians "were not ready in this context to talk specifically about what specific steps we could take."
He added: "They preferred the UN Security Council."
US officials contend that both countries share the same strategic goal of preventing a nuclear-armed Iran -- all the more so since Iran was revealed last month to have secretly built a second uranium enrichment plant near Qom.
They also argue that Moscow will become less reluctant to support sanctions if Iran fails to meet international obligations to halt its suspect uranium enrichment programme.
Nevertheless, they acknowledge tactical differences: while Washington suspects Iran will pursue its programme unless there is a clear threat of sanctions, Moscow says such a tough approach might backfire.
Though she warned that the Islamic republic's nuclear drive remains a matter of "serious concern," Clinton also struck cautious notes on sanctions, in tune with those of her Russian hosts.
"We are not at that point yet... It is not a conclusion that we have reached," she said.
During talks with Medvedev, Clinton said Washington was looking forward to "deepening and broadening" its strategic relationship with Moscow.
She did not meet Prime Minister Vladimir Putin, seen by most as Russia's de-facto leader, who is on a trip to China.
US officials said that, when Clinton and Medvedev met later, there was "no daylight" between them on the positions on Iran.
Russia has long opposed tough sanctions against Iran, and Medvedev's comments last month that sanctions may be "inevitable" in certain situations had been seen by some as a subtle policy change aimed at satisfying the West.
Iran has tried to make a show of greater cooperation since taking part in negotiations in Geneva with the world powers on October 1.
Obama has pledged to "reset" relations with Russia, whose ties with the United States have been strained by US missile defence plans, NATO expansion and last year's Russia-Georgia war.
Lavrov said the two sides had also made "substantial movement forward" on negotiations to replace the 1991 Strategic Arms Reduction Treaty (START).
START, which strictly limits US and Russian arsenals and is seen as a cornerstone of Cold War-era strategic arms control, expires on December 5.
Clinton said US and Russian negotiators were on schedule to complete an agreement by then.
The chief US diplomat also met members of Russian civil society to discuss human rights, promising that the United States would continue to press Moscow on such issues.