MOSCOW, Jan 14, 2010 (AFP) - An airplane carrying search and rescue teams left Moscow Thursday for quake-devastated Haiti, as Russia pledged to send more aid including a field hospital and medical supplies, the RIA Novosti news agency reported.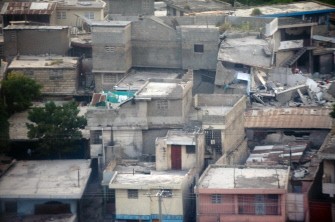 This aerial view shows destroyed building near Port-au-Prince's airport on January 13, 2009, one day after the eartquake hit the Haitian capital. AFP photo
The first Il-76 airplane, which lifted off from Moscow at 0230 GMT, will "deliver a specially equipped car, rescuers and trained seeker dogs," the emergency situations ministry said.
More airplanes will bring in a field hospital for 50 people "with surgical and diagnostic equipment as well as a blood lab", the ministry said.
Planeloads of rescuers and relief supplies headed to Haiti on Wednesday as the world launched a massive relief operation a day after a massive earthquake struck near the capital Port-au-Prince which is feared to have killed more than 100,000 people.