Russian President Dmitry Medvedev Thursday called the situation in

Syria

"dramatic" and expressed "enormous concern" over the deadly violence in the country.
"Unfortunately, people die there in large numbers. This arouses enormous concern from us," the Russian leader said in an interview given to Russian media in the southern resort Sochi.
Syria's President Bashar al-Assad needs to "carry out urgent reforms, come to terms with the opposition, restore peace and create a modern state," Medvedev said as quoted by the Interfax news agency.
"If he cannot do this, a sad fate awaits him, and in the end we will have to take some decision. We are watching the way the situation develops. As it changes, some of our perspectives also change."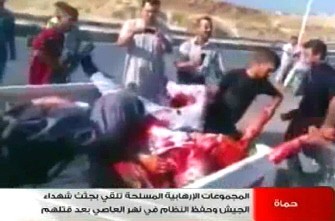 A grab taken from footage broadcast by Syrian state television and released by the Syrian Arab News Agency (SANA) on August 2, 2011 allegedly shows men who the government said are saboteurs and members of armed gangs carrying bodies of Syrian soldiers before throwing them into the Al-Assi (Orontes) River in the flashpoint central city of Hama, as activists said Syrian tanks shelled the city amid a crackdown on anti-government protests.
Medvedev's remarks follow a foreign ministry statement Monday strongly criticising the Syrian government's crackdown on demonstrations in a sign of a possible shift in Russia's rigid position on the conflict in the UN Security Council.
Russia supported the Security Council statement Wednesday which condemned "the widespread violations of human rights and the use of force against civilians by the Syrian authorities."
However, it did not support stronger action rebuffing efforts by Western powers to agree on a resolution over fears that it might pave the way for another military intervention like the one against Moamer Kadhafi's regime in Libya.
Medvedev stressed the need to "watch the way the situation develops. Kadhafi at some point gave extremely harsh orders on wiping out the opposition. The current Syrian president did not give such orders."
He added that Kadhafi is not likely to give up power willingly. "The whole world is trying to convince Kadhafi, did they succeed? And they won't, he's likely to die there, in his hut," Medvedev said.
Russia, which abstained from a resolution on the Libyan intervention, holds veto power in the UN Security Council and has persistently blocked a Western-drafted resolution on Syria to the irritation of other world powers.
Moscow has repeatedly stressed that it was firmly opposed to foreign interference in Syria, its ally since Soviet times, and believes Damascus could find a political solution to its crisis.