Russia on Friday gave its strongest indication yet that it will oppose a proposal by a U.N. envoy to set the breakaway Serb province of Kosovo on a path to independence.
U.N. mediator Martti Ahtisaari unveiled a plan last week to move the predominantly ethnic Albanian province towards a split from Serbia and independence.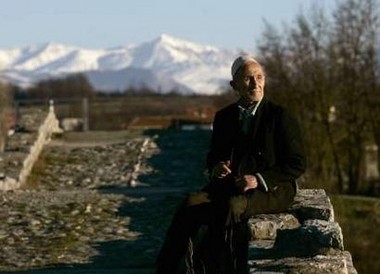 Kosovo Albanian man sits on the 18th-century bridge in the village of Bistrazin, near Djakovica.
Russian, a historic ally of Serbia, could use its veto in the U.N. Security Council to block the plan.
"The Russian side underlined the need for the sides and international mediators to patiently seek a solution ... without artificial time frames and while respecting internal Serbian political realities in connection with the recent parliamentary elections," Russia's Foreign Ministry said in a statement.
The ultranationalist Serb Radical Party, which is ardently opposed to any form of independence for Kosovo, won 28 percent of the vote in the election, edging out more moderate parties the West had hoped would do better.
The statement said this view was expressed at a February 8 meeting between Russian Deputy Foreign Minister Vladimir Titov and Frank G. Wisner, the U.S. State Department's Special Representative to the Kosovo status talks.
Russia has previously said any solution for Kosovo must take into account the views of both Belgrade and Kosovo's ethnic Albanian majority.
Friday's statement was the first time Moscow had made an explicit link with Serbia's parliamentary elections on Jan 21.
Kosovo has been under U.N. administration since 1999, when NATO launched bombing raids to stop Serb forces from driving out the province's ethnic Albanians.