The US-Russia nuclear arms pact to be signed this week enhances trust between the Cold War foes but Moscow may quit the pact if US missile defence plans go too far, a top Russian official said Tuesday.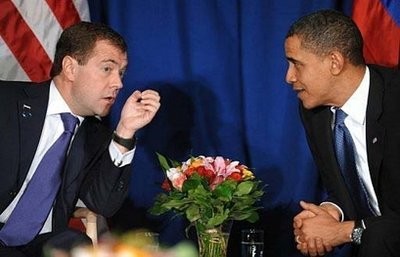 US President Barack Obama(R) and Russian President Dmitry Medvedev during a meeting in Copenhagen in 2009. (AFP Photo)
The nuclear arms treaty to be signed by US President Barack Obama and his Russian counterpart, Dmitry Medvedev on Thursday "reflects a new level of trust between Moscow and Washington," Foreign Minister Sergei Lavrov said.
Speaking to journalists in Moscow, Lavrov said the new disarmament treaty, which succeeds the 1991 US-Soviet START agreement, corresponds perfectly to the national interests of both the United States and Russia.
The previous pact, he said, contained much that was favorable to the United States and of a "discriminatory character" toward Russia -- a situation which will be wholly avoided in the new treaty, Lavrov said.
He stressed that the agreement to be signed this week in Prague explicitly acknowledges a direct link between offensive nuclear weapons and missile defences.
But he also admitted that the pact placed no restrictions on either side developing and deploying new missile defences, warning however that US moves to do so could provide grounds for Russia to quit the treaty unilaterally.
"Russia will have the right to abandon the START treaty if a quantitative and qualitative buildup of the US strategic anti-missile potential begins to significantly affect the efficiency of Russia's strategic nuclear forces," Lavrov told reporters.
Lavrov spoke to reporters amid US media reports that Obama plans on Tuesday to unveil a radical overhaul of the US nuclear arms strategy, placing explicit new limits on the use of such weapons.
In an interview with The New York Times, a senior US administration official said the new strategy would stress non-nuclear deterrence but would also make exceptions for "outliers like Iran and North Korea."
US commentators have described the new US-Russia nuclear pact as a key step toward an eventual total elimination of nuclear arms, a generations-old disarmament goal that has been revived by the Obama administration.
Asked to comment on how Russia felt about a nuclear-free world, Lavrov was circumspect.
"To talk seriously about practical steps towards a world without nuclear weapons, attention should be drawn to a whole range of factors that could potentially upset global strategic stability," he said.
Chief among those factors, according to Lavrov, is the deployment of weapons in space, an area that previous US administrations have acknowledged work in and that Lavrov said Russia and China were hoping to make off-limits.
Work toward a nuclear-free world would also depend on greater scrutiny and regulation of non-nuclear weapons deployed by air, land and sea with huge destructive power.
The new US-Russia treaty limits each side to a ceiling of 1,550 deployed nuclear warheads, a reduction of around 30 percent by comparison with the 1991 START treaty.
Critics however say counting gimmicks and the current state of the US and Russian nuclear stockpiles make the new pact more a symbolic document than a real nuclear weapons-reduction tool.