MOSCOW, July 2, 2009 (AFP) - Russia is ready to build effective relations with the United States in response to US President Barack Obama's willingness to improve ties, President Dmitry Medvedev said Thursday.
"The new administration headed by President Obama is showing its willingness to change the situation and build more effective, reliable, and ultimately more modern relations," Medvedev said.
"We are ready to play our part," he added, speaking in a video address posted on the Kremlin website.
Obama arrives in Moscow on Monday in a bid to "reset" US-Russian relations which were badly strained under the administration of his predecessor, George W. Bush, amid a range of disputes.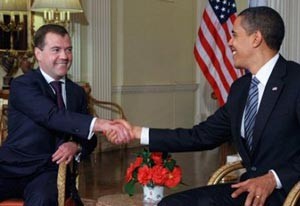 (Files) Russian President Dmitry Medvedev shaking hands with U.S. President Barack Obama at the G-20 summit in London on April 1, 2009
The US president is to hold talks with Medvedev on topics including nuclear disarmament and a bitter dispute over US plans to place missile defence facilities in eastern Europe, which Moscow opposes.
It will be Obama's first visit to Russia since his inauguration in January, though he met Medvedev on the sidelines of the G20 summit in London in April.