Russia has received numerous letters of condolence over Friday's derailment of a luxury express train, which left dozens of people dead, RIA-Novosti reported on Sunday.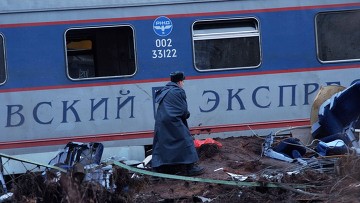 Workers inspect a damaged carriage from the passenger train that derailed as it travelled between Moscow and St Petersburg, not far from the village of Uglovka in Russia's Novgorod region.
Three carriages of the high-speed Nevsky Express train derailed late on Friday leaving at least 26 people killed and 96 injured. A total of 18 people are still listed as missing. The derailment was caused by an explosive device equivalent to 7 kg of TNT.
A second, weaker bomb had exploded on Saturday at 2:00 p.m. (11:00 GMT) at the site of the attack, but that it had not caused any injuries.
The U.S. said it was "deeply saddened by the terrible loss of life and injuries resulting from the reported derailment of a train between Moscow and Saint Petersburg."
"As authorities investigate the circumstances of this tragedy, our hearts go out to the families of those who lost loved ones, and we wish a speedy recovery to the injured," the White House said in a statement.
Leaders of ex-Soviet states, including Ukraine, Belarus, Azerbaijan, Estonia, Moldova, Lithuania, also offered their condolences to Russian leaders.
"On behalf of the Ukrainian people... I ask you to deliver sincere condolences to the families of those killed and words of support to all injured," Ukrainian president's press service quoted Viktor Yuschenko as saying.
Prime Minister Yulia Tymoshenko and Parliamentary speaker Volodymyr Litvin have also sent letters to their Russian counterparts.
Belarusian President Alexander Lukashenko said in a letter to the Russian president that the accident "echoed with pain in the hearts of Belarusians, who sincerely share your grief."
The Spanish government has also offered its condolences and said it "condemned the terrorist attack which led to the train derailment."
"The government also expresses to the friendly peoples of Russia its solidarity and full support in the fight against terrorism," the Spanish foreign ministry's press service said in a statement.
One of the main suspects in an attack on the train was described by the Interior Minister on Saturday as "over 40, stocky and ginger-haired."
Russia's federal security chief earlier said that an explosive device equivalent to 7 kg of TNT caused Friday evening's deadly derailment. Traces of explosives have been found at the scene and prosecutors have opened a criminal case on charges of terrorism.
"There is information to suggest that several people were involved," Interior Minister Rashid Nurgaliyev also told journalists. He said that a person who supplied information on the suspects was being sought.
The announcement came after Russian Railways chief Vladimir Yakunin said that a second, weaker bomb had exploded on Saturday at 2:00 p.m. (11:00 GMT) at the site of the attack, but that it had not caused any injuries.
Russia's health minister said that the death toll from the attack remained unchanged. 18 people are still missing almost 24 hours after the train went off the rails near the town of Bologoye in the Tver Region, approximately halfway between the capital and St. Petersburg. 96 people were injured.
Russian President Dmitry Medvedev has instructed the Interior Ministry to "keep the situation under control," adding that the "situation is tense as it is."
A similar derailment, also caused by a blast, occurred on the same route in August 2007, injuring 60 people. While two residents of the mainly Muslim North Caucasus region of Ingushetia were arrested in connection with that attack, prosecutors said it was planned by former soldier Pavel Kosolapov, a one-time associate of late Chechen warlord Shamil Basayev.
The blast has raised fears of a resurge of terrorist attacks in the Russian capital and other major cities. Russia was hit hard by terrorism in the 1990s and the early years of this decade, but major attacks have been confined to the volatile North Caucasus region since 2004.