President Dmitry Medvedev promised the West on Friday that a "changing" Russia was serious about economic reform, saying it needed a boom in foreign investment to modernise its economy.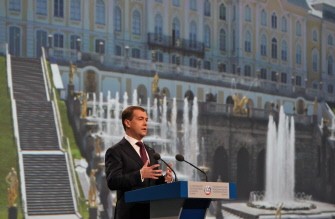 Russian President Dmitry Medvedev delivers a speech during the opening ceremony of the annual International Economic Forum in Saint Petersburg on June 18, 2010.
"We are truly modernising Russia," Medvedev, Russia's third post-Soviet president, told business leaders in a keynote speech at the annual economic forum in its second city of Saint Petersburg.
"The changes take time but it will happen," he declared in the former imperial capital founded by Tsar Peter the Great in 1703 to serve as Russia's window to the West and to narrow its gap with the West.
"Russia understands the tasks ahead and is changing for itself and for the rest of the world," said Medvedev.
Medvedev -- who took over the Kremlin from his strongman predecessor Vladimir Putin in 2008 -- has made modernisation a mantra of his presidency but has been criticised by economists for failing to follow rhetoric with actions.
In a surprise announcement warmly welcomed by the audience, Medvedev said that from 2011 Russia would abolish capital gains tax for long-term direct investment.
"Russia must become a country which attracts people from around the world to realise their dreams," he said.
He also promised more relaxed visa policies for qualified foreign businessmen working in Russia and a strengthening of the legal basis for business in a country still blighted by corruption.
"Russia needs a genuine investment boom," said Medvedev.
Medvedev announced he had signed a decree that would cut fivefold the number of firms deemed "strategic" and in which the state is obliged to own a stake, opening the way for broader participation of foreign companies in the country's top companies.
Under Putin, Russia drew up a list of sectors, first and foremost energy, in which foreign participation is limited.
German Gref, ex-economy minister and now head of Russia's largest bank Sberbank, said this was a crucial development as it showed the "state will gradually withdraw from direct participation in the economy".
The Saint Petersburg Forum, sometimes dubbed "the Russian Davos" after the annual get-together in Switzerland, is Russia's most important platform for showing off its economy to the world.
Medvedev asserted that Russia was emerging from the economic crisis with decent economic growth of around four percent in the first five months of 2010.
He also emphasized that the oil- and gas-rich country was being spared the budget crises currently besetting some European Union states, even if Russia had to tighten its belt.
"We have no problem with our sovereign debt. It is minimal," said Medvedev.
But he added: "We do not have so much money in the budget for structural changes. What we have we can and must use in a different way -- more effectively and result-orientated."
The global financial crisis that broke in late 2008 prompted worries that Russia again risked an economic meltdown of the kind it endured in 1998 when it defaulted on sovereign debt.
The economy contracted 7.9 percent in 2009 but has now started moving into recovery, although economists warn it will take years for Russia to recover pre-crisis growth rates.