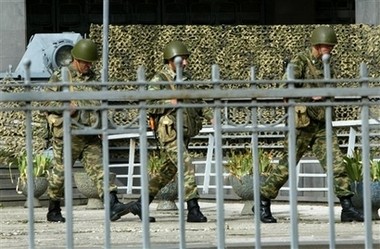 Russian soldiers march during a changing of the guards ceremony at the Russian Army headquarters in Tbilisi, Georgia, Friday, Sept. 29.
Russia said Saturday that it has suspended plans for further withdrawal of its troops from Georgia amid worsening relations between the two neighbors.
Russia has been gradually withdrawing equipment and troops from its two military bases in Georgia, which it had planned to close completely by the end of 2008.
But tensions escalated after the arrest in Georgia on Wednesday of four Russian military officers accused of spying. Gen. Alexander Baranov, the commander of the North Caucasus military district, told reporters in the southern city of Rostov-on-Don Saturday that Moscow was suspending planning for further military withdrawals.
Baranov drew a direct connection between the decision and the heightening tension, and blamed the Georgians for the decision.
"Why should we run ahead of the steam engine that they themselves have placed in our path?" he asked.
The agreement to withdraw Russian forces from Georgia, reached last year after hard-fought negotiations, was a victory for pro-Western President Mikhail Saakashvili, who has sought to reduce Russian influence.
The two countries' relations worsened after Saakashvili came to power following Georgia's 2003 Rose Revolution. Saakashvili pledged to move the country out of Russia's orbit, take control of the breakaway provinces of Abkhazia and South Ossetia and join NATO in 2008. Georgian authorities have accused Russia of backing separatists in the provinces.
Ties hit their lowest point in years following the arrest of the Russian military officers. On Friday, Georgia accused Russia of redeploying troops closer to its border and said the Russian Black Sea fleet was expected to start maneuvers in the next few days.
Infuriated by the officers' detention, Russia has recalled its ambassador from Tbilisi, evacuated some diplomats and their families and protested to the United Nations. Mikhail Svirin, a spokesman for the Russian Embassy in Georgia, said that all but a few embassy staff would be evacuated by Saturday.
The Foreign Ministry advised Russian citizens to refrain from traveling to Georgia, citing security concerns, and its embassy in Tbilisi stopped issuing visas to Georgian citizens.
Tbilisi courts on Friday ordered the four Russian officers remanded in custody for another two months. The courts also extended the arrest of 10 Georgian citizens accused of involvement in the alleged Russian spy ring.
Georgian Defense Minister Irakli Okruashvili said late Friday that Georgia had achieved two goals with the arrests.
"One ... is eliminating the network of spies in Georgia," he told Imedi television. "We achieved a political goal, too, which we have not been able to achieve for the past three years. The whole world ... saw that the Abkhazia conflict and the conflict over South Ossetia are not ethnic conflicts, but are conflicts between Georgia and Russia."