Russia has proposed a draft United Nations Security Council resolution on ensuring peace in Georgia as an alternative to a Western-backed version it rejected on August 19, reported RIA-Novosti Thursday.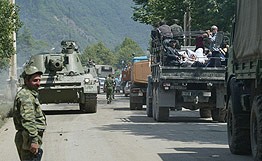 Russia pulls back its troops from the Georgian-South Ossetian conflict zone.
The new text, put forward on Wednesday, reiterates the six-point peace plan brokered by French President Nicolas Sarkozy in Moscow last week, including the stipulation that Russia may take "additional security measures" in Georgia, while omitting any reference to Georgia's territorial integrity.
Russia's UN envoy Vitaly Churkin called the Russian draft a "word-for-word reiteration" of the plan agreed by Sarkozy and Russian President Dmitry Medvedev after Russia's large-scale military operation, which followed Georgia's August 8 ground and air offensive in breakaway South Ossetia.
Russia, as one of the five permanent Security Council members, has the power to veto any draft resolutions. The United States, another veto-wielding member, signaled on Wednesday that it does not intend to back the Russian draft.
U.S. Deputy UN envoy Alejandro Wolff said the text was "intended to rubber-stamp a Russian interpretation that we do not agree with."
The six points agreed by the Russian and French leaders and repeated in the draft, include non-use of force, a definitive end to hostilities, free access to humanitarian aid, and a pullback of Georgian troops to their bases.
The remaining points address two more controversial issues - the withdrawal of Russian forces to "the line prior to the beginning of hostilities," but only after international mechanisms are set up allowing Russian peacekeepers to "take additional security measures," and also the launch of "an international discussion of lasting security and stability arrangements for South Ossetia and Abkhazia."
Russia's president has said the two breakaway regions should be allowed to make their own decisions on their future status.
On Tuesday, Churkin said the previous draft, submitted by France on behalf of the European Union and backed by the United States, distorted the six-point plan, which did not call for an "immediate" withdrawal. The draft did not go to a vote.
Authorities in South Ossetia said on Wednesday that 1,492 of the province's residents were killed in Georgia's military offensive.
Russia has so far, however, identified 133 residents of South Ossetia as having been killed in the attack. The state investigation committee said on Thursday that it was still impossible to give a final figure as many bodies were buried in makeshift graves.
Col. Gen. Anatoly Nogovitsyn, deputy chief of the Russian General Staff, said Russia is continuing its withdrawal from Georgia despite the tense situation in the South Ossetian conflict zone.
He accused NATO of exacerbating tensions in the area by rebuilding the Georgian army, and warned that the Russian military would take "appropriate measures" to neutralize such a threat.
Asked about Russian military losses in South Ossetia, Nogovitsyn said 64 service personnel were killed and another 323 injured.