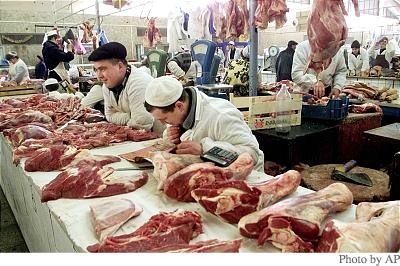 The ban would effect account for US$2.2 billion in EU export to Russian annually.
Russia has threatened to ban all imports of animal products from the European Union, an EU spokesman said Wednesday -- just two days before a summit where the two sides appear set for fractious talks over their future cooperation.
Russia is citing concerns over food hygiene standards in Romania and Bulgaria, which are due to join the EU on Jan. 1, as the reason to impose the EU-wide ban, a spokesman for the European Commission said.
Russia informed the commission "of their intention to ban EU animal product exports" starting Jan. 1 in a letter two weeks ago, spokesman Philip Tod said in Brussels.
The ban would affect all meat, fish and dairy products, which account for $2.2 billion in EU exports to Russia annually.
The Helsinki summit has already been clouded by Poland's refusal to agree to starting talks on a new Partnership and Cooperation Agreement with Russia.
The talks come amid an increasing EU-Russia divide over energy policy, as Russia continues to reject EU calls for it to adopt an Energy Charter Treaty that would open its pipeline network to third-party access and promote greater competition.
Foreign Minister Sergei Lavrov reiterated the country's position Wednesday, saying in televised remarks that Russia had no intention of ratifying the treaty because of the flaws inherent in it.
Sergei Yastrzhembsky, the Kremlin's top EU envoy, said in televised remarks Wednesday that Moscow would ratify the treaty "neither today nor tomorrow," and that energy would be a priority at Friday's summit.
Poland insists it will not drop its veto until Russia lifts a yearlong ban on Polish food imports and ratifies the Energy Charter Treaty. Talks on the Partnership and Cooperation Agreement need the approval of all 25 EU members to begin.
Yastrzhembsky said the ban on Polish meat imports was due to licensing violations connected to non-Polish producers.

---