MOSCOW, May 28, 2011 (AFP) - Russia on July 1 will lift a grain export ban it imposed in August 2010 in the middle of an unprecedented drought that wiped out harvests, Prime Minister Vladimir Putin said Saturday.
"We are lifting the grain export ban on July 1," Putin said in televised remarks.
The ban by the world's third-largest wheat exporting country had originally been due to expire at the end of December but was renewed amid fears of another grain shortfall this year.
A top minister had earlier suggested that the ban may be extended through the summer.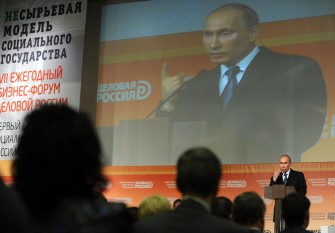 AFP - Russian Prime Minister Vladimir Putin speaks at the 7th annual business-forum Business Russia in Moscow on May 26, 2011.
Analysts said Russia's export ban helped contribute to a sharp rise in food prices last year that was one of the factors behind the wave of north African revolts that became known as the Arab Spring.
Russia's decision comes three days after Ukraine -- often referred to as the breadbasket of Europe -- said it too was lifting all export limits after seeing a rise in stockpiles.
Putin instructed his first deputy in charge of agriculture to make sure that Russian farmers had access to the loans required to seed and harvest enough land this year.
"We are closely following the progress of this vital part of the economy and using all mechanisms at our disposal to support it," he said.
Russia's decision to extend the loan was caused in part by complaints from farmers that the after-effects of the global economic crisis were tightening their access to the necessary bank loans.
But First Deputy Prime Minister Viktor Zubkov said Russia had some of the world's cheapest grain and that lifting their export restrictions could only be beneficial to farmers.
"Our current grain prices ... are almost half those on the world market," Zubkov told Putin.
"So, considering that we really do have grain now and the state of winter grain crops is good ... I think that we can lift the export restrictions on July 1."