SAINT-PETERSBURG, Russia, June 17, 2011 (AFP) - Russia's President Dmitry Medvedev said on Friday that reforms to modernise the Russian economy and fight corruption would happen regardless of who is in power in the country.
The Russian leader's assurances during the Saint Petersburg Economic Forum came ahead of presidential elections next March and amid uncertainty over will become the main candidate to occupy the Kremlin for the next six years.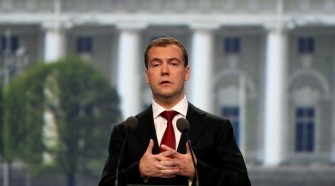 AFP - Russian President Dmitry Medvedev speaks at The International Economic Forum in St. Petersburg, on June 17, 2011.
Proposed reforms "must be realised regardless who is holding what posts in the country in the coming several years," Medvedev said in his opening remarks at the forum.
Medvedev and Prime Minister Vladimir Putin are both considered as possible candidates for the presidency but neither has put forth an official bid as Russian society and investors are increasingly looking for cues.
The Russian president in his address criticised increasing participation of the state in the economy and said the government must step up efforts to privatise state-owned companies.
"I want to announce very clearly: we are not building state capitalism," he said, adding that stable but slow economic growth should not be Russia's goal. "Another stagnation may be hiding behind stability."
The state should abandon controlling and blocking stakes in a wide range of companies, he said, adding that the existing privatisation plans were "too modest."
Medvedev also called for decentralising decision-making in Russia. "One cannot govern a country today from one spot," he said. A system in which officials depend fully on signals from the Kremlin is "not viable", he said.
Putin has not focused as much on technological and economic innovation in his remarks and Medvedev has noted several times that the government is not pursuing his reforms fast enough.