MOSCOW, Jan 31, 2011 (AFP) - Russia plans to spend nearly $2 billion to ensure security during the Olympic and Paralympic Winter Games in 2014 in Sochi located near its troubled North Caucasus region, a report said on Monday.
The games - one of the Kremlin's top prestige projects - will be held at the Black Sea resort of Sochi located close to violence-ridden region of North Caucasus where authorities are battling Islamist rebels.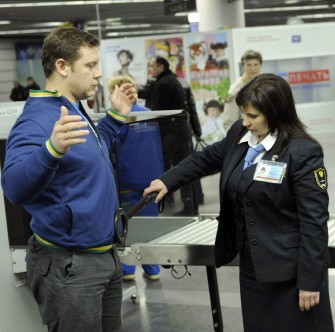 A guard uses a metal dectector on a passenger at a security checkpoint in Sochi airport, on January 25, 2011, a day after a bomb attack at Moscow's Domodedovo airport killed 35 people. AFP
The suicide bombing at Moscow's Domodedovo airport that killed 35 last week has aroused fresh concerns over the country's ability to handle big-ticket events ahead of the arrival of thousands of foreigners for the Winter Olympics.
Citing a source close to law enforcement, Vedomosti business daily said authorities plan to spend 57.8 billion rubles (nearly $2 billion) to ensure security at the world's premier sports event, whith spending of that money already underway.
There are few details of how exactly security will be ensured, however, the report said, adding that the interior ministry and government officials in charge of preparing the country for the Olympics declined to comment.
By comparison, $900 million was spent for security at the Vancouver 2010 Olympic Games, while at nearly $1.5 billion, the 2004 Olympic Games in Athens were among the most expensive summer games, said the newspaper, citing Marina Udachina, director of the Institute of Innovations, Infrastructure and Investment.
Islamists rebelling against Kremlin rule in the poverty-ridden Northern Caucasus have been behind a string of attacks in Russia over the last decades that have left hundreds dead.