MOSCOW, Jan 8, 2009 (AFP) - Envoys from Russia and Ukraine go to Brussels on Thursday for emergency EU-brokered talks to resolve a bitter gas fight between the two countries that has engulfed Europe in a major energy crisis.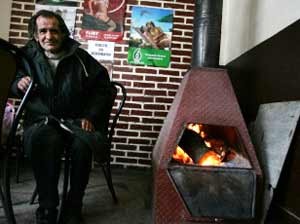 A man warms himself near a stove in a bar in the town of Belovo on January 7, 2008. Cold and anger gripped Bulgarians as the country found itself without Russian gas supplies for a second day owing to the Russia-Ukraine dispute. (Photo: AFP)
Announcing the hastily-arranged crisis talks in Prague, European Commission chief Jose Manuel Barroso said the meeting would focus on the use of monitors to verify the flow of Russian gas through Ukraine to clients in Europe.
He said the heads of the Russian and Ukrainian state-run gas companies, Gazprom and Naftogaz, respectively, would be present for talks with other Russian and Ukrainian officials and representatives of the European Union.
The organization of the Brussels talks brought some badly-needed focus to a chaotic dispute that began as a commercial disagreement between Gazprom and Naftogaz and has mushroomed into a full-blown international crisis.
While Russia and Ukraine have exchanged accusations of guilt, a dozen countries that rely heavily on Russian gas, most of them in the EU, have reported huge drops in gas supplies in the depths of a bitterly cold winter.
Slovakia and Romania have declared states of energy emergency, Bulgaria has ordered gas rationing for industry and Hungary, Croatia and Bosnia reported two consecutive days of complete stoppage of Russian gas supply.
Tens of thousands of people have been left without heating in their homes.
Gazprom ordered delivery of gas to Ukraine itself halted on New Year's Day after it failed to reach agreement with Naftogaz on payment of arrears for Russian gas already used by Ukraine and on prices for supply in 2009.
The move triggered a chain reaction: Russia accused Ukraine of "stealing" gas it was trying to ship to Europe and Ukraine countered that Russia had deliberately reduced supplies to provoke a crisis.
A spokeman for Russia's powerful Prime Minister Vladimir Putin on Wednesday insisted Gazprom had continued to pump volumes required by European consumers through the Ukraine pipeline network, and accused Kiev of "blackmail."
On Wednesday, Gazprom ordered a halt to gas shipments through Ukraine, asserting that Ukraine had already shut down all six pipelines that get the gas to Europe and accusing Kiev of diverting the gas for its own use illegally.
On the eve of the Brussels meeting, Russian President Dmitry Medvedev, in a telephone conversation with Ukrainian President Viktor Yushchenko, laid down a number of conditions for any resumption of Russian gas shipments via Ukraine.
They included a demand that Ukraine begin paying market prices for Russian gas immediately -- Russia has long sold gas to Ukraine at discounted prices -- and an independent EU monitoring plan to verify gas flows through Ukraine.
Gazprom has warned that leaving the pipeline network in Ukraine empty in freezing temperatures for a prolonged period could cause severe damage to the infrastructure. Long repair time would delay resumption of gas flow to Europe.