Russian President Dmitry Medvedev visits Ukraine Wednesday for the first time since President Viktor Yanukovych took power, hoping to boost improving ties by ending a dispute on gas prices.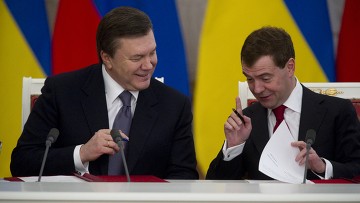 Russi's President Dmitry Medvedev and Ukraine's President Vicktor Yanukovich
Medvedev and Yanukovych are to hold talks in the northeastern Ukrainian city of Kharkiv, barely 50 kilometres (30 miles) from the Russian border, with officials trumpeting a new era in ties between Moscow and Kiev.
Russian-Ukrainian relations plunged to a post-Soviet low under Yanukovych's predecessor Viktor Yushchenko, whose staunchly pro-Western policies riled Moscow so much that Medvedev refused to have any dealings with him.
But the election of normally pro-Kremlin Yanukovych in February led to an immediate warming of relations and officials are boasting that this is the fifth high level meeting between the two sides in just two months.
Yanukovych defeated the leaders of the 2004 Orange Revolution who swept to power on promises to build a new future of a prosperous Ukraine in Europe free of Russian influence that deeply troubled the Kremlin.
Yet the process has not been entirely smooth, with Yanukovych seeking to fulfill one of his election promises by pushing for Moscow to slash by a third the price Kiev pays for Russian gas imports.
An agreement may be announced in Kharkiv after officials announced last week that an accord had already been reached at a government level.
The talks are due to start at 1000 GMT with announcements expected at around 1200 GMT.
Gas remains a hugely sensitive issue between Russia and Ukraine after a row in January 2009 led to Russia turning off the taps to Ukraine, which in turn left many European countries short of gas.
The Kremlin confirmed in a statement ahead of the talks that the issue of gas supplies would be discussed as well as the status of the Russian Black Sea fleet which is based in Crimea in southern Ukraine.
The fleet's lease runs out in 2017 and Russia is keen to ensure it stays at the strategic base after that. Yanukovych has indicated this may be possible, in contrast to the opposition of Yushchenko.