A Moscow court on Tuesday upheld ex-tycoon Mikhail Khodorkovsky's conviction but cut the Kremlin critic's jail term by one year until 2016, prompting a defence vow to appeal the case in Europe.
The decision to keep Russia's most famous prisoner in jail for five more years is likely to anger rights groups, who view Khodorkovsky as a political victim of former president and current Prime Minister Vladimir Putin.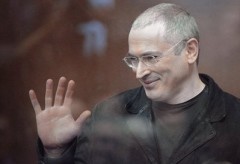 A Moscow court has found jailed tycoon Mikhail Khodorkovsky, seen here in court, guilty in his second trial on charges of embezzlement in a judgement seen as a watershed in the country's post-Soviet history
An appeals judge ruled that Khodorkovsky and his fellow prisoner and former business associate Platon Lebedev will have to serve "13 years each in a general security prison."
The ruling brought chants of "Shame! Shame!" from Khodorkovsky's supporters outside the courtroom and saw his mother break down in tears.
"I won't be around in 2016," Marina Khodorkovskaya told AFP.
"But I expected nothing less," she added.
Khodorkovsky's detention began when he was snatched off his private jet in 2003 in the heat of a power struggle with the Kremlin, during which he tried to influence Russia's energy policies and financed various opposition parties.
The country's richest man at the time and often mentioned as a potential Kremlin contender, Khodorkovsky had been scheduled for release this year before a Moscow court found him guilty on a second set of fraud charges in December.
The December decision essentially found Khodorkovsky guilty of stealing oil from his own company -- a crime that even a former central bank chief and a former economics minister said in court was impossible.
The defence vowed to file an appeal with the European Court of Human Rights in Strasbourg.
"We will explore every legal appeals option. We will appeal to the European Court -- all the Russian possibilities have been exhausted," said lead defence attorney Vadim Klyuvgant.
Fellow defence team member Yury Schmidt said the verdict was "dictated by the political authorities".
Britain expressed concern over Russia's commitment to the rule of law after the court decision.
"The failure of Khodorkovsky and Lebedev's appeal has again highlighted concerns about the application of the rule of law in Russia," said a statement from David Lidington, a minister from Britain's Foreign Office.
"The UK believes that Russia's people are best served by a fair and impartial judicial system which protects the legal rights of all individuals and ensures international investor confidence," the statement added.
Amnesty International said Khodorkovsky and Lebedev were now "prisoners of conscience," days after refusing to use the term.
Nicola Duckworth, Amnesty?s Europe and Central Asia director, added: "Whatever the rights and wrongs of Mikhail Khodorkovsky and Platon Lebedev?s first convictions there can no longer be any doubt that their second trial was deeply flawed and politically motivated.
And Catherine Ashton, the European Union's foreign affairs supremo, said she was "deeply disappointed" by the decision.
"I remain troubled by allegations of numerous violations in due process which reflect systemic problems within the Russian judiciary," she said in a statement.
Khodorkovsky's case has become emblematic of the West's sceptical view of Russia's commitment to the rule of law and use of selective justice to prosecute those who fall foul of the state.
Earlier in the day the former Yukos oil company boss made an impassioned appeal to President Dmitry Medvedev, asking him to prove his commitment to justice and respect for human rights.
"The president will have to make a choice on what he and Russia need: a state governed by the rule of law or the possibility of unlawful reprisals. You cannot have both," a calm and confident-looking Khodorkovsky said from inside a glass-walled enclosure in the courtroom.
Khodorkovsky said the absurdity of the second conviction -- which a secretary to the judge later claimed had been dictated to the court from higher authorities -- was obvious.
"You either annul it or join the criminals in robes," Khodorkovsky told the court while Lebedev sat at his side.
Once Russia's richest man, Khodorkovsky built up Yukos into the country's biggest oil company before it was broken up by the state and then swallowed up by Rosneft, a state firm which is now the country's largest.
Putin said ahead of December's ruling that "a thief must be in prison" in comments that observers said had spelled doom for Khodorkovsky and crushed any hope of his early release.
Khodorkovsky's trial has been watched as a possible indicator of Russia's future direction under Putin and Medvedev, amid speculation that the powerful prime minister was planning a return to the Kremlin in 2012 polls.
Russia is heading into parliamentary polls in December followed by a presidential vote three months later and observers say the ruling duo have a vested interest in keeping the charismatic ex-businessman behind bars in the coming years.