Russia and Venezuela envisioned on Saturday a joint venture to develop Venezuelan oil deposits, following bilateral talks that also touched on military contracts, Russian news agencies reported.
Russian Vice Premier Igor Sechin said a Russian consortium would team up with the Venezuelan national oil company Petroleos "to undertake a range of projects dealing with oil production and infrastructure construction".
It would focus on the Junin 6 block of the Orinoco heavy crude region, in the east of Venezuela, which has estimated reserves of 53 billion barrels.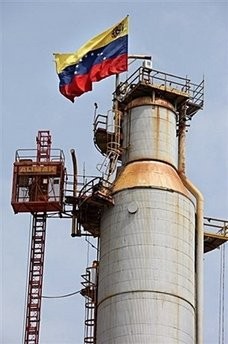 A Venezuelan flag is displayed on a oil refinery.
Sechin was speaking in Saint Petersburg where he led the Russian side to a meeting of a bilateral intergovernmental commission, with the Venezuelan delegation headed by Vice President Ramon Carrizalez.
"With regards to Junin 6, the cost of this project could go up to 30 billion dollars (21.2 billion euros)," the vice premier said, quoted by the Interfax news agency.
While financing would come from the Russian consortium, the Kremlin is to support the venture by creating a Russian-Venezuelan bank and providing necessary equipment.
The six groups in the consortium -- including Lukoil, TNK-BP and Sourgoutneftegaz -- "are leaders in the petroleum industry and their financial situation is good," Setchin said.
Turning to military cooperation, Setchin spoke of future weapons contracts.
"Technical military cooperation is very important for the Russian economy ... It is particularly important during the economic downturn insofar as we have to support our businesses," he said.
Recalling that Venezuelan President Hugo Chavez has expressed interest in Russian weapons, he stated: "If the president said so ... he will do so."
Venezuela is a key partner for Russia in Latin America, a region long regarded as the preserve of the United States but one in which Moscow wants to have a higher profile.
From 2005 to 2007, Moscow and Caracas signed a dozen arms contracts worth 4.4 billion dollars.