Russia warned on Wednesday that "terrorist organisations" may arise in Syria should President Bashar al-Assad's regime fall under pressure from ongoing street protests.
"If the Syrian government is unable to hold on to power, there is a high probability that radicals and representatives of terrorist organisations will become entrenched," Interfax quoted a top foreign ministry official as saying.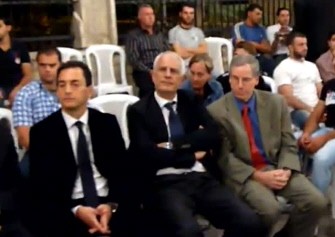 An image grab from footage uploaded on YouTube shows US ambassador to Syria Robert Ford (R) and his French counterpart Eric Chevallier (L) attending a condolence ceremony for slain Syrian activist Ghiyath Matar, who reportedly died under torture, in the Damascus district of Daraya on September 13, 2011 according to Syrian rights activists
Russia has been attracting increasing international anger over its continued support for Syria despite a government crackdown on protests that the United Nations estimates have killed around 2,600 people.
Moscow has refused to support Western sanctions against its Soviet-era ally and argues that equal pressure should also be placed on protesters who refuse to engage Assad in direct talks.
President Dmitry Medvedev last week also said that some of those taking part in the Syrian demonstration had links to "terrorists".
The foreign ministry's new challenges and threats department chief Ilya Rogachyov said that Libya could become another safe haven for extremist groups following the fall of Moamer Kadhafi.
"Strange things are happening in Libya," Interfax quoted Rogachyov as saying during a lecture in Russia's second city of Saint Petersburg.
"Weapons storages have been burgled and no one knows what happened," he said. "We can say with a high degree of probability that the weapons fell into the hands of the regional department of Al-Qaeda."
Russia heavily criticised the NATO-led campaign against Kadhafi's forces after abstaining on a UN vote that authorised the action.