Russian President Dmitry Medvedev told his Ukrainian counterpart on Friday that Kiev's plans to join NATO run counter to the bilateral treaty on friendship, RIA-Novosti quoted Russia's foreign minister on Friday.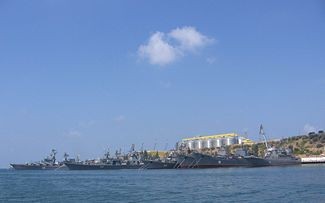 Some major ships (including the flagship) of the Soviet and Russian Black Sea Fleet in Sevastopol, August 2007.
Medvedev also cautioned Viktor Yushchenko at a meeting near St. Petersburg against unilateral steps to expel Russia's Black Sea Fleet from naval facilities leased from Ukraine, Sergei Lavrov said after the meeting.
"Ukraine's membership in such an alliance [NATO] cannot be treated as friendly toward Russia," Lavrov said.
Ukraine's Western-leaning leaders failed to secure membership in an action plan paving the way to accession to the bloc at a NATO summit in spring, but were told the decision would be reviewed in December.
Ukraine's plans to join NATO and to review the Russian Black Sea Fleet's presence in the Crimean Peninsula ahead of 2017, when the lease agreement expires, have angered Moscow.
Russian parliament said earlier this month Moscow could terminate the 1997 friendship treaty with Ukraine if the ex-Soviet state joined NATO. Lawmakers said this would be tantamount to the unilateral withdrawal from the treaty.
Some politicians said Russia could claim back the Crimea, part of Russia's Soviet republic until 1954, if Ukraine is admitted to NATO.
Lavrov said NATO's ongoing eastward expansion and the emergence of new bases along Russian borders make Russia question the bloc's peaceful mission.
Medvedev and Yushchenko held a bilateral meeting ahead of an informal CIS summit later on Friday.