Nearly 150 people, including many children, are feared dead after a Russian airliner crashed in Siberia.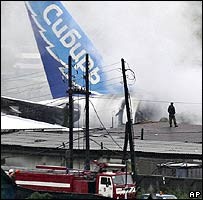 The jet hit a building, broke up and burst into flames
The Sibir Airbus A-310 plane was flying from Moscow when it crashed on landing at Irkutsk airport.
The plane reportedly slid off the runway and hit a building at about 0800 on Sunday (2300 GMT Saturday).
About 55 people were injured, Russian officials said. The plane was carrying 192 passengers and eight crew. All the crew were said to have died.
Many of the passengers were reported to be children travelling to the nearby popular holiday destination of Lake Baikal.
The aircraft appeared to veer out of control on landing.
It overshot the runway then crashed through a concrete wall, before hitting a building close to the airfield. It then broke up and burst into flames.
Burns
The cabin was wrecked and passengers were evacuated via the rear of the aircraft, according to rescuers.
Several passengers were seen jumping from the wreckage. Most of those being treated in hospital were suffering from burns.
The fire took three hours to put out, authorities said.
Rescue workers are sifting through the wreckage, and have recovered about 120 bodies so far.
Russian aviation officials have flown out from Moscow to investigate the crash but there is no explanation yet as to the cause.
Irkutsk airport was the scene of another fatal crash, in July 2001, when a Tu-154 plane fell to the ground on its final approach, killing all 145 on board. Authorities blamed pilot error.
Just two months ago, on 3 May, an Armenian Airbus A320 flying to Sochi in Russia crashed into the Black Sea killing all 113 people on board.
And in August 2004, 89 passengers and crew died when two aircraft - a Tu-134 and a Tu-154 - crashed about 800km (500 miles) apart on the same night after leaving Moscow's Domodedovo airport.
(Source: BBC)